Cyberpunk's story is shorter than Witcher 3's 'because of complaints over length'
'Tremendous amounts' of players didn't finish The Witcher 3, says quest designer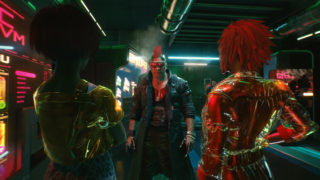 Cyberpunk 2077's main campaign is shorter than The Witcher 3's because player data shows "tremendous amounts of people" didn't finish CD Projekt Red's previous game.
That's according to the game's senior quest designer Patrick K Mills, who said in a post-stream following Friday's Night City Wire (via Resetera) that there would still be plenty to do outside of the main story missions.
"We do know that the main story run in Cyberpunk 2077 is slightly shorter than The Witcher 3," he said. "We got a lot of complaints about The Witcher 3's main story just being too long.
"And looking at the metrics you see tremendous amounts of people played through that game really far, but never made it to the end.
"We want you to see the whole story. So we did shorten the main story, but we have lots to do and in terms of a completionist campaign, I just don't have that number."
CD Projekt Red has previously suggested that Cyberpunk 2077's main campaign is shorter than The Witcher 3's story but that it would make up for it with much higher replayability.
According to an attendee of the developer's annual community event in Poland in February, CDPR said Cyberpunk 2077's side quests would be more complex than those in its previous title.
Witcher 3's side quest system was reportedly described as "a single line, with a bunch of branches sticking out of it," whereas in comparison CDPR said Cyberpunk 2077's side missions will often evolve into further side quests which in turn impact other quests, including the main story.
CD Projekt has also claimed it's dedicated more resource to Cyberpunk 2077's open-world missions than it did for The Witcher 3.
According to the head of CD Projekt's Krakow studio, Cyberpunk 2077 will feature around 75 'Street Story' quests. Street Stories are one of four quest types set to feature in Cyberpunk 2077, alongside the main story missions, side missions and shorter 'minor' quests.
Developer CD Projekt Red previously described Street Stories as "the bread and butter of a street merc like V, a bit like monster hunting for a witcher like Geralt." Completing Street Stories will give protagonist V more street cred, building the player's reputation around the city.
"In Witcher 3, we did the open-world elements very late in the development process when we only had two or three people working on it or something," he explained. "Now there's, like, 15 people doing these open-world quests."
CD Projekt Red revealed new Cyberpunk 2077 gameplay during its third Night City Wire live stream on Friday.