Cyberpunk character creation 'massively expanded' following E3 feedback
"We just listened to what people wanted"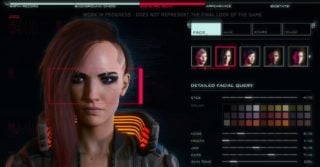 CD Projekt Red "massively expanded" Cyberpunk 2077's character creation options based on feedback from the game's E3 2018 demo, it's revealed.
During its hands-off demos at the most recent E3 and Gamescom shows, CD Projekt Red asked those in attendance to fill out feedback forms. At E3 2019, CDPR told VGC it would be bold in implementing changes based on those responses.
During a new Cyberpunk 2077 interview at Gamescom this month, VGC asked spokesperson and senior concept artist Marthe Jonkers what changes the studio had implemented based on feedback to Cyberpunk 2077's E3 2019 demo and she revealed that the most significant changes actually came from the previous year's show.
"I can probably compare it more with last year's E3 [2018], after which we massively expanded the character creation options and added a lot more stuff, which was a response to that," she said.
"We just listened to what people wanted, how they thought we could improve… we really expanded that, which I think is really exciting. You can actually make your own character now; you can change your body type, you can pick a voice you like, you can make all kinds of combinations."
Jonkers added: "We really appreciate the feedback that we get from these demos and we are constantly looking to see what we can improve."
In a separate interview with Metro, the artist confirmed that "you don't choose your gender anymore."
She added: "You don't choose, 'I want to be a female or male character' you now choose a body type. Because we want you to feel free to create any character you want. So you choose your body type and we have two voices, one that's male sounding, one is female sounding. You can mix and match. You can just connect them any way you want."
In June, CDPR's Alvin Liu said of the demo feedback: "CD Projekt is a company that's full of gamers: we're making games but also playing them.
"So to that effect we're listening to everything and if you have comments about the game's audio, we will pass it on, and if you have comments about lighting, we'll send them to lighting. We just want to make a top notch product.
"Very few people at CDPR are settling for 'OK' – we're trying to do something exceptional here. In terms of feedback, we'll listen to whatever you have – good or bad!"
CD Projekt Red plans to stream 15 minutes of Cyberpunk 2077 gameplay this Friday, August 30, featuring an edit of what the studio showed to Gamescom attendees, followed by developer interviews discussing the footage.
For more on the title, check out VGC's recent interviews with CD Projekt Red's Alvin Liu and Cyberpunk creator Mike Pondsmith.
Cyberpunk 2077 will release in April 2020. You can pre-order the game now from Amazon or GAME in the UK.
Related Products
Other Products
Some external links on this page are affiliate links, if you click on our affiliate links and make a purchase we might receive a commission.