Cyberpunk 2077 'most viewed E3 game trailer'
Sci-fi RPG reportedly beats Marvel's Avengers and Jedi: Fallen Order
Cyberpunk 2077's latest cinematic trailer is reportedly the most viewed E3 2019 game trailer.
That's according to data compiled by Mike Armbrust, a developer who has been running his "E3 YouTube Interestometer" as a side-project for the past five years.
While the data is not all encompassing, Armbrust says thousands of videos are tracked in real time and consolidated into the findings, including "every known upload" of the E3 trailers in question.
Armbrust doesn't present the data as conclusive and says it shouldn't be used to state that a game 'won E3' but rather as an indicator of the most popular E3 trailers, as well as viewers' reactions to them — there are various filters available, showing most liked/disliked videos etc.
At the time of writing, Cyberpunk 2077's E3 trailer, which debuted during the Xbox E3 conference last Sunday and revealed Keanu Reeves is starring in the game, is approaching 19.66 million views on YouTube.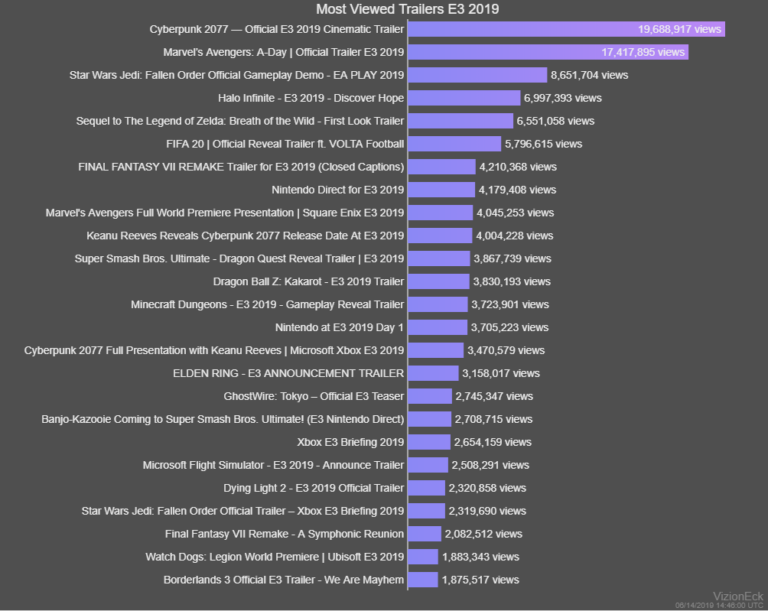 That puts it comfortably ahead of second-placed Marvel Avengers (17.34 million views) and way out in front of third-placed Star Wars Jedi: Fallen Order (8.65 million views).
The Interestometer also includes data on the most watched E3 publisher conferences, with Xbox's E3 showcase reportedly viewed more than twice as many times as its closest rival, Nintendo Direct.
According to VizionEck, Cyberpunk 2077's official E3 2018 trailer was also the second most watched trailer of last year's show behind Fallout 76's.
For more on the game, read our feature on the behind closed doors Cyberpunk 2077 E3 2019 demo.
Related Products
Other Products
Some external links on this page are affiliate links, if you click on our affiliate links and make a purchase we might receive a commission.