Cut WWE 2K22 content reveals Bray Wyatt, outdated attires, an extra Showcase match and more
The abundance of cut content is likely due to the game's two-year development cycle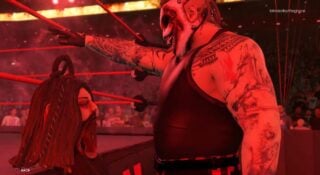 Users who've managed to access leftover content in the files of WWE 2K22 have found removed characters such as Bray Wyatt, an extra match for the game's Showcase mode, and a lot more.
As discovered by WhatsTheStatus, one of the most significant discoveries is a fully animated and modelled entrance for The Fiend, a character portrayed by former WWE Superstar Bray Wyatt.
Wyatt, who was released on July 31, 2021, also appears in his The Fiend persona on the front of packs of cards used in the MyFaction mode. An arena has also been discovered in the game featuring the set from the "Firefly Funhouse", an in-universe kids show that Wyatt would host when performing The Fiend gimmick.
Several characters, including Drew McIntyre and Carmella, have hidden, unfinished attires that were likely scrapped because of the game's longer production time, which would have rendered the costumes even more out of date than is typical in the WWE series.
WWE 2K22 - the VGC review
Ruby Riott, who's currently known as Ruby Soho in AEW, also has hidden entrance videos in the files, implying she was once planned for the game. Another wrestler who now works for AEW, Bryan Danielson, also has several crowd signs hidden in the game files.
A menu image for a showcase match between Rey Mysterio and Jushin Liger was also discovered. The match, which took place at WCW Starrcade 1996, was one of the most iconic of Rey's early career. While the arena and the costume made it in the game, the match did not.
This was likely due to Jushin Liger's complicated image rights, which are partly owned by a Japanese comic book publisher, making any merchandise or appearances in games for the Japanese icon difficult.
Last week we reported that players of WWE 2K22 had found a way to unlock the game's MyFaction exclusive characters for use in other modes, including classic versions of Triple H and Shawn Michaels.
Following VGC's reporting, it was then discovered that characters locked to the game's story mode, MyRise, could also be uploaded to the game's Community Creations suite. 2K has since removed the majority of these characters, however.