Cuphead: The Delicious Last Course debuts new theme song featuring Ms. Chalice
The new intro replaces the popular original theme song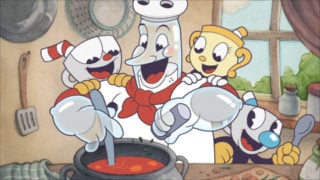 Cuphead: The Delicious Last Course has debuted a new theme song to open the game's DLC.
The Delicious Last Course, which will finally release this week after having originally been scheduled for release in 2019, brings with it all-new bosses and levels, in addition to the new theme song for the game.
The original intro music, which became popular when the game first released in 2017, has been replaced with a song featuring Ms. Chalice, the game's new playable character. You can listen to the song below.
Cuphead: The Delicious Last Course new theme song
The expansion was originally scheduled for release in 2019, but was previously delayed to 2020.
When it was later delayed one final time to 2021, Studio MDHR founders Chad and Jared Moldenhauer explained the reason for the delay in a social media update.
"In true Studio MDHR fashion, we aren't content for this final chapter to be anything less than our best work," they said. "Throughout development we've challenged ourselves to put everything we learned from making Cuphead into the quality of The Delicious Last Course's animation, design, and music.
"Meeting this standard has been extremely challenging for us amid the global pandemic that has affected so many of our fellow developers. Rather than compromise on our vision in response to COVID, we've made the difficult decision to push back the release of The Delicious Last Course until we are confident it will delight the Cuphead community the way we feel it should."