Cuphead coming to Switch, with Xbox Live features planned
New content also headed to all versions of the game in April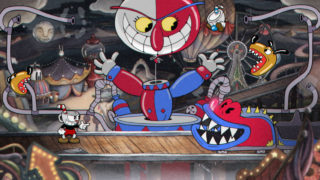 Studio MDHR has announced that a Nintendo Switch version of Cuphead is to be released in April 2019, and there are plans for the game to support Xbox Live features post-launch.
The critically acclaimed indie platformer, which has sold over three million copies since releasing on PC and Xbox One in September 2017, will arrive on Nintendo's console on Thursday April 18 priced at $19.99 (£16.99).
It'll launch on Nintendo's system with fresh content, which will be made available on all other platforms at the same time via a free update. It'll enable players to select Mugman as a playable character from the start of the single-player campaign, while introducing new animated cutscenes, localised text in additional languages, plus bug fixes.
"At the same time," Studio MDHR said in a blog post, "we'll be working closely with the lovely team at Microsoft to investigate bringing Xbox Live features to the Nintendo Switch version of Cuphead. It's still early days, so we can't promise any dates or details on this, but we'll be tinkering away to see what's possible in the coming months."
The news was corroborated by Chris Charla, senior director of ID@Xbox, who said in a post on Xbox Wire: "We are partnering with Studio MDHR to investigate bringing Xbox Live features beyond Xbox and PC to Nintendo Switch. Yes, this means that fans will now have the opportunity to experience Studio MDHR's award-winning debut game on Nintendo Switch with Xbox Live!
"We'll be working with Studio MDHR to implement Xbox Live features into Cuphead on the Nintendo Switch in the coming months. Given the early stage of our work with Studio MDHR, the Xbox Live features will appear in a post-launch update to Cuphead on Nintendo Switch. We'd like to thank Studio MDHR and Nintendo for their help in this investigation!"
Microsoft announced earlier this month that various Xbox Live services will be coming to iOS and Android for developers to implement in their smartphone games, These features include Achievements, Gamerscore, friends lists, family settings and Xbox Live security measures.