Cult puzzle favourite Zoo Keeper is getting an Apple Arcade sequel
Zookeeper World lets players build their own zoo as they play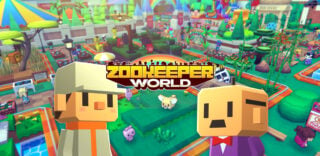 The cult 2003 Game Boy Advance puzzle game Zoo Keeper is getting a sequel.
Zookeeper World has appeared on the 'coming soon' section of the Apple Arcade store, suggesting a release isn't far away.
According to the game's description, it's a new Apple Arcade exclusive sequel to the original Zoo Keeper and has players not only solving puzzles but also making their own zoo in the process.
"As you complete requests from [zoo] visitors as well as the Boss, your zoo rank will increase," the description reads. "Before long, you'll be expanding and customising your zoo with various designs and decorations.
"You might just come across a family of ducks or a calico cat, or even cruise around in a UFO."
Players can also upgrade the animals they've collected by increasing their Charm rating, which turns them into 'cosplay animals'. Examples given include Punk Monkeys, Sailor Crocodiles and Muay Thai Polar Bears.
While the original game was loved for its simple match three gameplay, Zookeeper World offers a variety of different stage types including the 'Move All Challenge', where players have match all the animals in one move, and boss fight called 'Mecha Boss Challenges'.
As they complete the puzzles, players collect coins and gems to unlock new zoo items and animal upgrades. As it's an Apple Arcade title, however, there will be no microtransactions, meaning the currency will presumably have to be earned through normal gameplay.
The original Zoo Keeper was released on Game Boy Advance in 2003, before coming to PS2 in 2004 as Zoo Puzzle.
It wasn't until the game came to the Nintendo DS later in 2004, however, that its popularity dramatically increased, with the handheld's touch screen making it a perfect fit for the match-three gameplay.