Crysis Remastered's next-gen update includes higher resolutions on Xbox Series X
PS5's resolution limits tie into PS4 Pro's equivalent outputs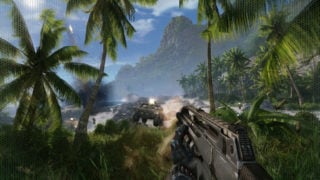 Crytek has released a next-gen console update for Crysis Remastered enabling the game to be played at up to 60fps on Xbox Series X/S and PS5, among other features.
The update also adds a new level, Ascension, which was previously deemed too taxing to include in the console versions of the game, plus the classic Nanosuit menu and various bug fixes (see the full Xbox and PS5 patch notes).
The next-gen patch introduces performance, quality and ray tracing modes for the three consoles.
Performance mode offers 1080p at a target 60fps on Xbox Series X/S and PS5, while ray tracing mode runs at best at 1440p at 60fps on Series X and PS5, with a capped 1080p at 30fps on Series S.
The quality mode aims for 2160p at 60fps on Xbox Series X and 1800p at 60fps on PS5.
"Those resolution limits tie into PS4 Pro's equivalent outputs, if you're wondering why they're lower than Series X," according to Digital Foundry. "It seems that this is a limitation of PS5's 'back-compat plus' feature."
This is the latest example of a last-gen multiplatform game receiving better next-gen optimisation on Xbox Series X than on PS5, likely due to restrictions around how Sony's console handles backwards compatibility updates.
In January, EA released a next-gen optimisation update for Star Wars Jedi: Fallen Order. Although this update also improved the PS5 version, its improvements were locked to 1440p postprocessing at 60fps. The Xbox Series X version, meanwhile, gave players the choice of two modes, performance (60fps and dynamic resolution up to 1440p) or normal (4K postprocessing).
Since both next-gen consoles launched, a number of games including Cyberpunk 2077, Star Wars: Squadrons, Call of Duty: Warzone and Rocket League have received performance updates for those playing on Xbox Series X, but not PS5.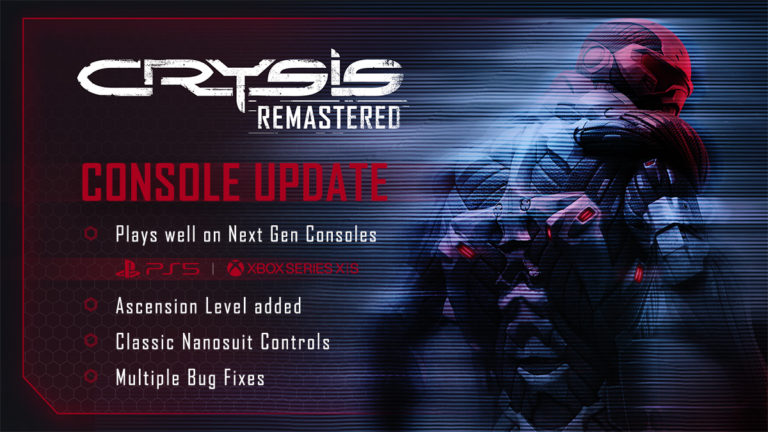 Crysis Remastered next-gen patch notes:
General
For the first time on console, a new level has been added – Ascension.
Added the Classic Nanosuit menu.
Performance improvements as well as resolving many potential crashes.
Next Gen support – Next Gen consoles can now play at up to 60FPS:
Xbox Series X
Performance mode: 1080p – 60 fps
Quality mode: 2160p – 60 fps
RayTracing: 1440p – 60 fps
Xbox Series S
Performance mode: 1080p – 60 fps
Quality mode: 2160p – 30 fps
RayTracing: 1080p – 30 fps
PS5
Performance mode: 1080p – 60 fps
Quality mode: 1800p – 60 fps
RayTracing: 1440p – 60 fps