Crysis Remastered is coming to PC and consoles including Switch
UPDATE: First official trailer and details released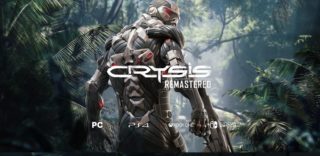 A remaster of EA and Crytek's 2007 first-person shooter Crysis will release this summer.
The game will release for PC, PS4, Xbox One and Nintendo Switch, and is being co-developed by Saber Interactive, the studio responsible for The Witcher 3's Switch port.
According to Crytek, Crysis Remastered will feature high-quality textures and improved art assets, an HD texture pack, temporal anti-aliasing, SSDO, SVOGI, state-of-the-art depth fields, new light settings, motion blur, and parallax occlusion mapping. Particle effects will also be added where applicable.
Further visual additions such as volumetric fog and shafts of light, software-based ray tracing, and screen space reflections have also been added to the game.
Crysis features a group of military protagonists wearing advanced nanosuits capable of enhancing their strength, speed, defence, and giving them cloaking abilities.
The game takes place in 2020 on the fictional Lingshan Islands, off the Philippines, and sees players battle against hostile North Korean soldiers and a race of technologically advanced aliens known as the Ceph.
A sequel, Crysis 2, was released in 2011 followed by Crysis 3 in 2013.
"We are excited to be working on the Crysis franchise again, and to bring all the Crysis fans a remaster worthy of their passion for the game," said Crytek CEO Avni Yerli in a prepared statement.
"It's an exciting opportunity to be able to bring Crysis back to PCs and current consoles – even Nintendo Switch! – so that a whole new generation of players can experience the thrill of a battle in the Nanosuit."