Crusader Kings III hits PS5, Xbox Series X/S and Game Pass in March
Paradox's strategy RPG will be making its first appearance on consoles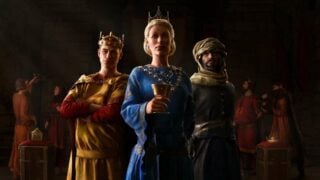 Paradox Interactive's Crusader Kings III will be released for PS5, Xbox Series X/S and Xbox Game Pass on March 29, 2022.
It will mark the first time the strategy RPG series has appeared on console platforms.
Paradox and development partner Lab42 say they've customised the game's UI and control scheme to suit larger screens and work with gamepads, including the addition of radial menus.
Crusader Kings III, which was first released for PC in September 2020, is a medieval simulator which casts players as the leader of a noble dynasty.
"They have their own personality and preferences, and, once the family head dies, they will be succeeded by a new dynastic leader who could be very different from their predecessor," Crusader Kings III lead producer Nils Ryborg previously told Xbox Wire.
"A warrior king could die and see his realm divided among his three sons – a diplomat, a religious zealot, and a seducer. The character you play will face events and challenges specifically designed to match their personality and choices through the game.
"Your goal? To create the greatest dynasty in history in a deeply researched world that stretches from Iceland to India, from Scandinavia to Central Africa. Different cultures and religions go toe-to-toe in a world where your bloodline and family history are your claim to prominence and respect."
Crusader Kings III features include:
Character Focused Gameplay: Every character you play or interact with has their own unique personality. Events and options in the game are largely determined by the type of person you are.
Infinite Possibilities: Play as any noble house from Iceland to India, Finland to Central Africa, over five centuries. Interact with wandering guests, stubborn children, devious spymasters, and saintly holy men in an elaborate tapestry of medieval life.
Waging War: Rally your vassals and raise your men-at-arms to besiege enemy castles or put down rebellions. Personal prowess on the battlefield can win you great honour, but strategic planning is the path to victory.
Royal Marriages: Spread your dynastic DNA throughout the world, stamping your royal seal on the crests of kingdoms and duchies far and wide. Marry for power and raise children to press claims on new lands.
Saints and Sinners: Keep faith with your religious leaders or perform great crimes in the interest of the state. When the going gets tough, you can always embrace a heresy or craft a new religion more in line with your character's priorities.
Related Products
God of War Ragnarök (PS5)
Other Products
Some external links on this page are affiliate links, if you click on our affiliate links and make a purchase we might receive a commission.