Control review round-up: Remedy's action title is weird and wonderful
Game releases for PC and consoles on Tuesday August 27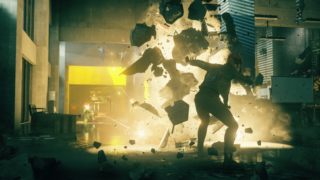 Control reviews have started to go live ahead of the PlayStation 4, Xbox One and PC game's release this Tuesday, August 27.
VGC's Control review calls the game "Remedy's finest creation since the original Max Payne".
Read on to see what others thought of the title, which is published by 505 Games.
VGC (4/5) – "We're not sure Control is Remedy's finest action game – that accolade probably still goes to Max Payne – but it is perhaps Remedy's best-written and staged game."
PCGamesN (9/10) – "A gripping descent into something between alternate history and fever dream, realised beautifully in audiovisual flair, and lacking just slightly in the combat itself."
USgamer (4/5) – "I liked Max Payne and Alan Wake, but I honestly didn't want Control to end. And to me, that's the sign of a great game."
PC Gamer (88/100) – "Control's thin protagonist and abrupt ending are propped up by an abundance of mystery, wonder, and glorious room-destroying combat."
EGM (5/5) – "Control is Remedy at the height of its abilities. Finally, the studio's expert handling of tone and story is met with gameplay that's just as engaging and refined."
Xbox Achievements (85/100) – "One of the generation's most intriguing game worlds and almost perfect pacing, the only thing that holds Control back from being an all-time classic is its unfortunate and frustrating technical issues."
DualShockers (7.5/10) – "If you have enjoyed past games from Remedy, you'll certainly find further enjoyment here with Control."
Eurogamer (no score) – "Giddy action and astonishing art design combine in one of the great locations of modern video games."
VG247 (no score) – "The writing, direction, and performances are consistently brilliant. This is Remedy at the peak of its game."
GameSpot (8/10) – "It's not often that a game invades my thoughts the way Control has. I'm at the point where I want to consume every last thing it has to offer."
IGN (8.8/10) – "Control is set in an engrossingly weird paranormal world that I couldn't help but explore."
Destructoid (9/10) – "Control is a weird, enigmatic, perplexing masterpiece. It's also Remedy's most well-rounded work yet."
TheSixthAxis (9/10) – "Its unique mix of surrealism, sci-fi and mystery draws you in, but doesn't give everything away, and the combat is fantastically varied and provides just enough challenge."
Metro (8/10) – "The flawed storytelling squanders its full potential but even with a few missteps this is still one of the most enjoyable action games of the year."