Control getting two DLC expansions, first one will be PS4 timed exclusive
Paid expansions arriving in 2020, following new game mode due this year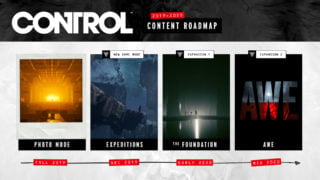 Remedy has outlined its DLC plans for Control, including the release of two paid expansions for the supernatural action adventure game.
Post-launch DLC set for release in 2019 will be free. It will include a photo mode due this fall and a new game mode coming in December.
The expansions, titled The Foundation and AWE, will feature new story missions, teams, mechanics and locations.
They'll be available to purchase individually upon launch or as part of a season pass. The Foundation will launch first on PS4, while AWE will release on all platforms on the same date.
Control DLC roadmap:
Photo Mode: Remedy is working on the much-desired Photo Mode, arriving this fall free to all players, which will enable players to take awesome snapshots of Jesse in the Oldest House.
New Game Mode: In December, the Expeditions game mode will be released, offering challenging new end-game content in which Jesse must help Security Chief Arish explore the mysterious Formation and its strange surroundings. Here you will face some of the greatest challenges the Oldest House has to throw at you. Expeditions will be free to all players.
Expansions: In 2020, two full, paid Expansions will be released, The Foundation and AWE. Both will offer new story missions, teams, enemies and game mechanics, and will take place in new locations within the Oldest House.

The Foundation will delve into the history of the Oldest House. At the request of the ever-mysterious Board, Jesse must explore what lies beneath the Bureau as she returns order to the Foundation and the Oldest House itself.
The second Expansion, AWE, will take Jesse into a new area of the Oldest House, the Investigations Sector, where the Bureau closely examines Altered World Events.
In a lengthy feature published on VGC in August, game director Mikael Kasurinen detailed the making of Control.
The game is out now for Xbox One, PS4 and PC via Epic Games store. For more info on it, read VGC's Control game review and see what other critics think of the title in our Control review round-up.