Confusion over Cyberpunk 2077 refunds as PlayStation and Xbox deny requests
UPDATE: Sony has removed Cyberpunk 2077 from the PlayStation Store and is offering refunds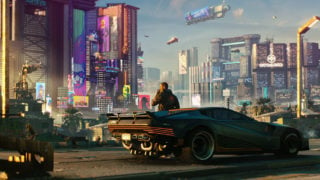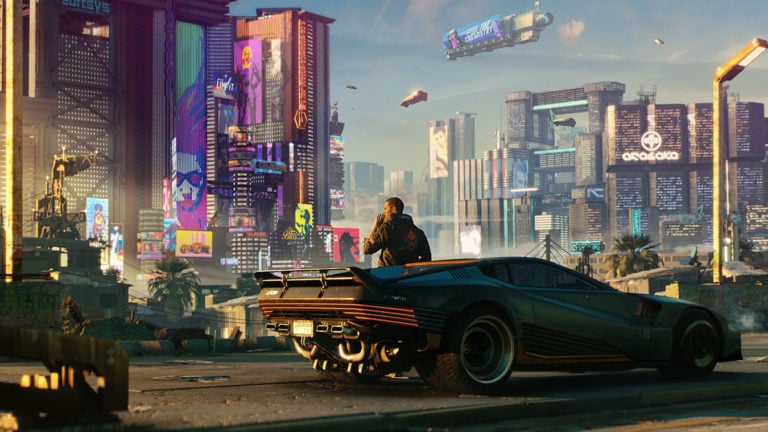 Some Cyberpunk 2077 refund requests are reportedly being denied by PlayStation and Xbox, despite developer CD Projekt Red stating on Monday that unhappy customers could get their money back.
Following its release on December 10, Cyberpunk 2077's performance on base PS4 and Xbox One consoles has been heavily criticised by fans and the media, with a Digital Foundry analysis calling the game's performance on Sony's entry-level system "not acceptable".
Reports emerged over the weekend that some players unhappy with the product had managed to claim PS4 refunds on the basis that the game was faulty in its current state, although others said they were unsuccessful in their attempts to get their money back after starting to play the title.
In a statement issued on Monday, developer CD Projekt Red conceded it "should have paid more attention" to improving the performance of the game on last-gen consoles.
It pledged to improve the overall experience via future updates, but also said customers not wanting to keep the game could opt for a refund – something it would help them with if they were having difficulties getting.
Multiple users have since reported being denied refund requests by PlayStation and Xbox. In some cases, where users have begun playing the game, PlayStation support representatives have advised that they wait for planned title updates designed to resolve various Cyberpunk 2077 issues.
Sony introduced a new PlayStation Store refund policy last year which gives users 14 days to cancel PS4 digital purchases. The terms cover pre-ordered content, as well as released games and DLC that players have not yet started to download or stream.
In cases where the user has started to download or stream purchased content, Sony says they are not eligible for a refund unless the content is "faulty".
Xbox's refund terms for digital games read: "All sales of Digital Game Products are considered final, but we understand there may be extenuating circumstances.
"When you request a refund for these products, and depending on the purchase or content type in determining refund eligibility, we consider a variety of factors like time since date of purchase, time since release, and use of the product."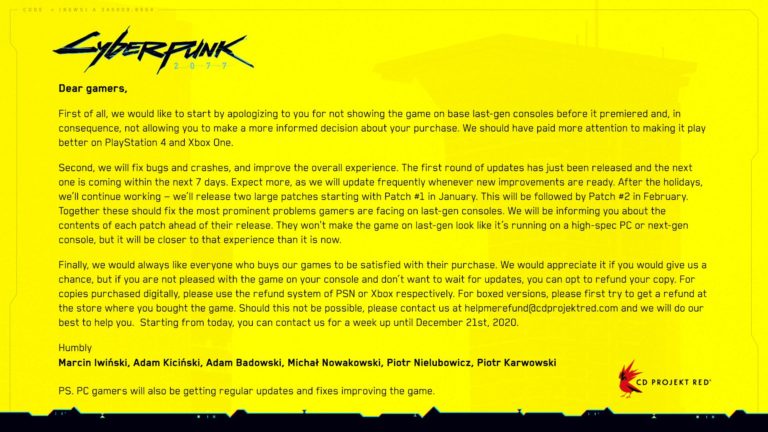 VGC has contacted Sony and Microsoft to ask the companies if they're working with CD Projekt to facilitate refunds, and whether exceptions to their normal refund policies are being made in the case of Cyberpunk 2077.
UPDATE: In a statement, Xbox suggested its treatment of Cyberpunk 2077 refund requests was consistent with its aforementioned terms and conditions.
UPDATE 2: CD Projekt addressed the subject of refunds during a conference call focused on the troubled launch of Cyberpunk 2077.
During a Q&A session, SVP of business development Michał Nowakowski said the company has no special agreement in place with Sony or Microsoft for Cyberpunk 2077 refunds.
"One has to understand, Microsoft and Sony, for every product that is released digitally on Microsoft or Sony storefronts, have refund policies," he said. "I mean, despite various articles that have shown up [stating] that things are being [changed] just for us, it's actually not true. These policies are in place and have always been in place and are not opened up specifically for us.
"I mean, anybody who has purchased any title on PlayStation Network or Microsoft Store can ask for a refund and if it's made within certain boundaries, usually related to time, certain usage and so on can ask for that refund. Our procedure here with Microsoft and Sony is not different than with any other title released on any of these storefronts. I just wanted to state that clearly because there seem to be certain misconceptions."
UPDATE 3: Sony has removed Cyberpunk 2077 from the PlayStation Store and is offering refunds to players who purchased it through the online marketplace.
ORIGINAL STORY CONTINUES: CD Projekt announced last week that Cyberpunk 2077 had sold eight million copies via pre-orders alone – more than enough to cover the game's development costs, as well as marketing and promotional expenses "either already incurred or anticipated for the remainder of 2020", it said.
Related Products
God of War Ragnarök (PS5)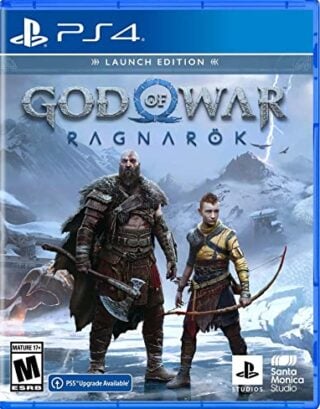 God of War Ragnarök (PS4)
Other Products
Some external links on this page are affiliate links, if you click on our affiliate links and make a purchase we might receive a commission.