Finishing God of War's Norse saga in two games or a trilogy was 'debated a lot'
Sony Santa Monica says the upcoming sequel packs in a lot of content
Developers from Sony's Santa Monica Studio have discussed the challenges involved in wrapping up God of War's Norse saga in two games.
Set for release on PS4 and PS5 next month, Ragnarök will complete the Norse story which began with 2018's series reboot, God of War.
But it could easily have been the second entry in a three-part story, rather than the concluding chapter, developers responsible for Ragnarök's story said in the first in a new series of behind-the-scenes videos, which is viewable below.
"Whether the Norse saga was going to be a trilogy or just two games was something we debated a lot," said lead writer Rich Gaubery. "There were obviously pros and cons for either approach. So, we waited for [Santa Monica creative director] Cory Barlog to weigh in, and he did. And he said, 'let's do it in two'."
"The consequence to that is how do you wrap up this story in one game and do Ragnarök justice?" said senior producer Ariel Angelotti. "How do we lead up to that and then have a big moment at the end of the game and wrap up all those loose threads?
"This game is bigger than what we initially envisioned. There's a lot of important story moments that we needed to cover. There are more characters that we follow the threads of. And, ultimately, it ends up feeling big and epic because there is a lot there for people to enjoy."
Gaubery added: "I am very excited for folks to see this final chapter. A lot happens. We put our characters through the ringer. But we also bring them closure, and we provide answers to a lot of the questions the first game posed."
Last September, Barlog said Santa Monica chose to finish God of War's Norse story in two games because the development of each title was lengthy, and he didn't want players to have wait 15 years to experience a trilogy.
In a PlayStation Blog post, Santa Monica lead community manager Grace Orlady said the new Ragnarök behind-the-scenes video series will be released in nine parts, each "diving into one aspect of the game – from shaping the story and elevating combat, to creating the score and crafting cinematics".

She wrote: "The story of God of War Ragnarök is not only that of a father and son who must confront the coming tides of war, it is also the story of the individuals who chose to devote their time, skill, and passion to build this game together in the face of unprecedented uncertainty during a global pandemic."
God of War Ragnarök was originally planned for release last year, but Sony delayed it to 2022 to help Santa Monica deliver "a top-quality game while maintaining the safety and wellbeing" of its team.
The studio recently announced that the game had gone gold, meaning it is feature complete and ready for physical production, ahead of the God of War Ragnarök release date of November 9.
Related Products
God of War Ragnarök (PS5)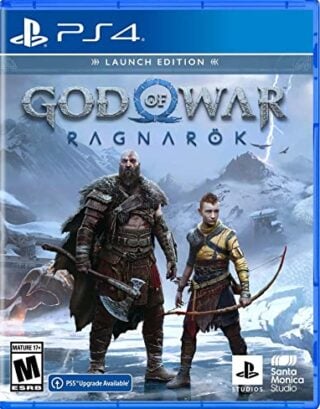 God of War Ragnarök (PS4)
Other Products
Some external links on this page are affiliate links, if you click on our affiliate links and make a purchase we might receive a commission.