'Completely f***ing stupid': God of War director bemoans retailers selling Ragnarök early
Cory Barlog claims retailers have sold copies 10 days early, flooding social media with spoilers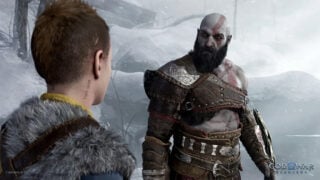 God of War Ragnarok is reportedly being sold at some retail stores ten days before release, causing significant story spoilers to appear across the internet.
Several social media users have begun posting significant late-game spoilers this weekend, including a video understood to be the entire conclusion of the game.
Sony Santa Monica creative director Cory Barlog took to Twitter to express his frustration with the situation. "A retailer selling the game nearly TWO WEEKS before release. Just so disappointing," he wrote.
"Sorry to everyone that you have to dodge the spoilers if you want to play the game fresh," Barlog continued. "Completely fucking stupid you have to do this. This is not at all how any of us at SMS wanted things to go."
God of War Ragnarok preview: The first five hours
He added: "You know, right now, I can really understand the benefit of having just an installer on the physical disc," seemingly referencing the recent news that Modern Warfare 2's retail disc contains a tiny fraction of the game. 
Ragnarok's narrative director also took to social media to vent his frustration.
"*sigh Just stay away from social media, Reddit, YouTube, etc unless you're really confident in your ability to mute hashtags and block people," Matt Sophos wrote. "I'm really sorry if anyone's had our game spoiled in any way. We've really tried to keep things fresh and surprising for you."
He added: "Unfortunately, it's now far more than one. Trolls weaponizing spoilers, retailers breaking street date… you name it."
Responding to a fan who questioned whether the leaks came from early review copies, Sophos claimed this was not the case.
"First, *I* didn't release anything. Second, journalists need more than 3 days to play our whole game and prep their reviews (print or video). Third, the recent leaks didn't come from reviewers. They came from retailers breaking street date."
VGC's preview of God of War Ragnarok called it "an improved sequel" in every way. "So far, we're impressed with how much better the combat feels, and while we expected the game to perform well, the boosted framerate and level of detail make the PS5 version a huge step up from the original game," we wrote.

God of War Ragnarök was originally planned for release last year, but Sony delayed it to 2022 to help developer Santa Monica Studio deliver "a top-quality game while maintaining the safety and wellbeing" of its team.
Earlier this month Sony Interactive Entertainment also announced a new God of War Ragnarök PlayStation 5 hardware bundle.
Related Products
Other Products
Some external links on this page are affiliate links, if you click on our affiliate links and make a purchase we might receive a commission.