Cloud gaming partnership 'all driven by Sony,' claims Microsoft CEO
PlayStation maker trusts our business model, says Nadella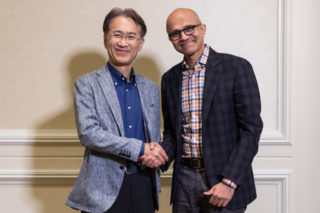 Microsoft CEO Satya Nadella has discussed the company's cloud gaming partnership with Sony, claiming the deal was "all driven" by the PlayStation maker.
The partnership, which was announced in May, is expected to result in Sony using Microsoft Azure data centres for cloud gaming and content streaming services.
As part of the deal, Sony and Microsoft will also explore collaboration in the areas of semiconductors and AI.
Speaking to Fortune, Nadella said Sony decided to partner with Microsoft because it could "trust" the Xbox maker's cloud business model, which he said is dependent on their own success.
"It's a beginning for us," he said. "First of all, it's all driven by Sony. They looked at who are all their partners that they can trust. In fact, it turns out, even though we've competed, we've also partnered."
Nadella added that the reason for that trust was, "basically and fundamentally the fact that we have a business model in the areas that they're partnering with us, where we're dependent on their success.
"So we will do the best job for them, whether it's in cloud or whether it's in A.I. or what have you, in order to make sure that Sony can succeed with their own IP creation."
In May the two companies signed a "memorandum of understanding" that they will explore joint development of future cloud solutions in Azure, to enhance their respective gaming and content streaming services.
Nadella said: "They also have—beyond gaming—other assets, like interesting devices and silicon (chip) businesses, which could be interesting in the context of what we're doing in Azure.
"Overall, if you look at all the parts of these businesses, whether it's in entertainment, gaming, or the camera businesses, all of these things can use more cloud computing power. But they can also go-to-market with Microsoft in some industrial cases, especially for their things around cameras."
Microsoft is preparing to launch game streaming service xCloud this October, enabling it to deliver "console-quality gaming" to Android mobile devices, and potentially bring its products to rival console platforms too.