Cliff Bleszinksi calls on Nexon to revive his closed FPS Lawbreakers
But the Gears of War designer claims he's only interested in being a consultant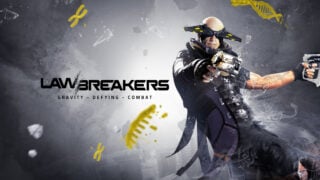 Veteran game designer Cliff 'CliffyB' Bleszinksi has called on publisher Nexon to open talks about potentially reviving his failed first-person shooter Lawbreakers.
Developed by the now-defunct developer Boss Key Productions and directed by Bleszinski, LawBreakers was released in August 2017.
The game would shut down just one year later, however, citing a low player count as the main issue, despite a mostly positive reception from critics.
Earlier this month Bleszinski had told fans to "stay tuned" for news related to the deceased shooter, claiming that he'd received information on the IP from his lawyer.
In a follow up tweet, the former Gears of War designer has now revealed he's discovered that the Lawbreakers IP is still owned by Nexon and called on the company's CEO to speak with him about it.
Clarifying his intentions in further tweets, Bleszinski said he wasn't interested in actively creating a new game, but said he'd be willing to consult on any potential revival.
In April 2018, eight months after the game's release, Boss Key released a statement reading: "The fact is, LawBreakers failed to find enough of an audience to generate the funds necessary to keep it sustained in the manner we had originally planned for and anticipated.
"And while a pivot to free-to-play may seem like the easiest change to make, a change of this magnitude takes publishing, planning and resources to do it." LawBreakers was taken offline in September 2018.
Blaszinski previously expressed confusion at the swell of support around a potential LawBreakers revival, as the game's original release was largely unsuccessful by the standards of his earlier projects.
"It confuses the hell out of me how people were rooting for the game to fail and when it did now there's a ton of support for it," he said. "Gamers are weird, yo."