A list of more than 220 classic Pokémon returning in Scarlet and Violet's DLC has seemingly leaked
A lengthy list of missing companions has been datamined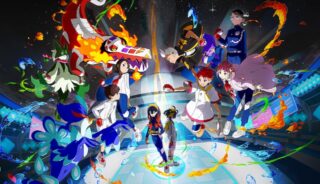 A datamined list of around 220 Pokémon that will be seemingly returning to Scarlet and Violet as part of its upcoming DLC has been posted online.
A Pokémon Presents broadcast on Monday revealed that the upcoming two-part expansion, The Hidden Treasure of Area Zero, will reintroduce older Pokémon not currently found in the Paldea region. These will include Milotic, Nintetails, Shiftry, Metagross, Seel and Alcremie.
Now Pokémon dataminer @mattyoukhana_ has noted that the recently released version 1.2.0 update for Pokemon Scarlet and Violet has removed a number of hidden Pokédex entries for Pokémon not currently in the game.
While this may not immediately seem to mean anything, mattyoukhana_ noted that this also happened with a version 1.2.0 update for Pokémon Sword and Shield, and that when it did "every single one of the deleted entries made it into the DLC".
As such, using the newly datamined Scarlet and Violet data, they have compiled what they believe to be the complete list of classic Pokemon that will be returning in the DLC.
There are 223 Pokémon in the list, which is still far fewer than the over 530 Pokemon that are currently not included in the game.
While it's unlikely every Pokémon will be returning, the list is still missing some notable entries that could suggest it's incomplete. For example, it includes almost no legendary Pokemon, which suggests either that legendary Pokemon will be acquired in a unique way, or that they won't be included at all (which is less likely).
Pokémon Scarlet and Violet's raid system is one possible way that the Legendary Pokemon could return to the game – since release, Game Freak has been using this method to introduce other returning Pokémon not usually in the Pokédex, and making them available to catch on a limited time basis.
Since the series' move to Nintendo Switch, Pokemon games no longer feature compatibility with every single Pokemon from the previous generations.
The decision, which was met with backlash by fans online when it was initially confirmed for Pokémon Sword and Shield, was mockingly known as 'Dexit', referring to both the Pokédex and the UK's decision to leave the European Union, known as 'Brexit'.
The Hidden Treasure of Area Zero Part 1: The Teal Mask will be released this fall, and Part 2: The Indigo Disk will be released in winter 2023.
Players who pre-order the expansion will be provided with a new uniform set, which will differ depending on which base game they have.
As an early purchase bonus, players who buy the expansion before October 31 will receive a Hisuian Zoroark that isn't obtainable in the Paldea region. The Hisuian Zoroark knows the move Happy Hour, is a dark tera-type and has the Charismatic Mark.
Related Products
Other Products
Some external links on this page are affiliate links, if you click on our affiliate links and make a purchase we might receive a commission.