Civilization VI is now free on the Epic Games Store
Strategy title replaces Grand Theft Auto V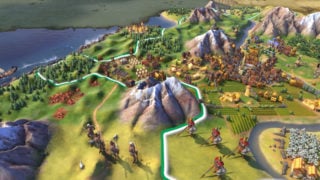 Sid Meier's Civilization VI is now free to download from the Epic Games Store.
Released in 2016, the PC version of Firaxis Games' turn-based strategy title has a Metascore of 88 on review aggregation site Metacritic, based on 84 reviews.
Civilization VI replaces Grand Theft Auto V, which was free to download through the Epic Games Store last week, and will itself be replaced by a mystery title on May 28.
The Epic Games Store's weekly free game promotion, which launched alongside the storefront in December 2018, will run throughout 2020.
The digital marketplace recently launched its 'Mega Sale' featuring discounts of up to 75% off selected titles until June 11, including Control for £23.99, Borderlands 3 for £24.99 and Assassin's Creed Odyssey for £16.49.
It's also offering registered users a free $10/£10 coupon. Every time you use a $10/£10 coupon on an eligible game or add-on priced $14.99/£13.99 or above during the sale period you'll receive an additional $10 coupon.
The Epic Games Store now lets users self-refund qualifying purchases, while upcoming features include a mod marketplace and an Achievement system.
Earlier this week it was reported that Epic is also offering partial refunds if you buy an Epic Games Store title which goes on sale shortly afterwards.