Chris Pratt tells fans to 'go watch The Mario Movie, then we can talk' over voice criticism
Meanwhile, Seth Rogen says he's fully aware his Donkey Kong is just his own voice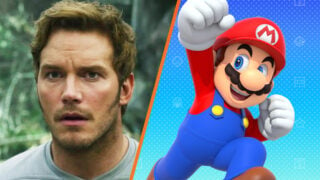 Chris Pratt has asked Mario fans to watch The Super Mario Bros Movie before making judgements on how he performs the title character's voice.
The casting of Pratt as Mario has been met with some resistance ever since it was announced back in September 2021, and this resistance still remains to some extent despite the release of a number of trailers since then.
Speaking to ExtraTV about the Brooklyn accent he appears to have given Mario, Pratt explained: "You know, come watch the movie. Go watch the movie, and then we can talk. I really think that once you've seen the movie – you know what, in all honesty, I think you probably need to watch it twice."
He added: "In all honesty the answer, though, is that this is a passionate fanbase and it makes sense. I understand, I'm part of it.
"This is the soundtrack to your youth. You don't want someone to come along and cynically destroy it as a cash grab with a movie. I fully understand that, you do not want that to happen, and there are so many hearts and souls and minds dedicated to making sure that didn't happen."
Meanwhile, Pratt's co-star Seth Rogen has been somewhat less defensive about his performance as Donkey Kong in the movie, and is fully aware that the character just sounds like him.
Speaking to ComicBook.com, Rogen said: "I was very clear, I don't do voices. And if you want me to be in this movie, it's gonna sound like me and that's it. And that was the beginning and end of that conversation.
"I was like, 'if you want Donkey Kong to sound a lot like me, I'm your guy'. But it did seem to work, you know. I think in the film and in the game I think all you really know about Donkey Kong is that he throws barrels, and he does not like Mario very much.
"That's honestly kind of what I ran with – this idea that he hates Mario, that they have an adversarial relationship, that he's annoyed by him, that he doesn't want to be stuck with him, that he wishes he was on this adventure without him. To me that was funny and that was kind of the root of the character, and it was born out of the mythology of the games."
One thing both Pratt and Rogen agreed on was that they'd like to see more movies in the future.
Speaking to ExtraTV interviewer Jenn Lahmers, Pratt said: "You saw the movie. It really honours the video game, it honours the world of Mario and it's very promising as to what we could expect over the next 10 years, like an entire universe of these types of movies.
"They're super nostalgic, they're really fun, it's Illumination so they know what they're doing, and it's great because – especially for me, now that I have kids, I have to see every animated movie whether it's good or not, so I'm really grateful when a great animated movie comes out, and that's what this is thankfully. And hopefully there'll be more."
Rogen was similarly enthusiastic about the possibility of a Donkey Kong movie, telling ComicBook.com: "It would be fun. I honestly had a great time doing it and I think it's a big world, gigantic, and it seems to be a thing that people are excited to see."
Originally set to release on April 7, The Super Mario Bros Movie release date has now been moved forward to April 5 in "the US and in more than 60 markets around the world", including the UK.
Along with Pratt as Mario and Rogen as Donkey Kong, the movie stars Charlie Day (It's Always Sunny in Philadelphia) as Luigi, Anya Taylor-Joy (The Queen's Gambit) as Peach, Jack Black (Jumanji) as Bowser and Keegan-Michael Key (Key & Peele) as Toad.
Related Products
Other Products
Some external links on this page are affiliate links, if you click on our affiliate links and make a purchase we might receive a commission.