Chinese Room is taking over Vampire: The Masquerade – Bloodlines 2
The long-in-development action RPG is now targeting a 2024 release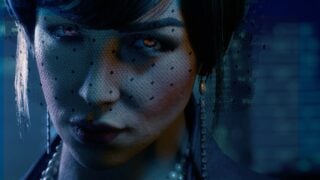 Paradox Interactive's long-in-development action RPG Vampire: The Masquerade – Bloodlines 2 has returned with a new developer and release date.
The company announced on Saturday that The Chinese Room, the Brighton, UK-based studio known for exploration games such as Dear Esther and Everybody's Gone to Rapture, will be taking over development on the game.
An announcement video was shared during PAX West on Saturday, in which Paradox said it would show gameplay in January 2024 and release the game in fall 2024.
"Vampire: The Masquerade holds a special place in our hearts. The story world's dark setting filled with intricate narratives built on top of modern society perfectly fits our studio's catalogue," said Ed Daly, studio director at The Chinese Room.
"Bloodlines 2 is our most ambitious project to date. Fans of the franchise have been eagerly awaiting this game, and we are up to the challenge. We are bringing more than 15 years of award-winning experience to the project, creating a game that honours the legacy of its predecessor while bringing its gameplay to the modern era."
Sean Greaney, VP of World of Darkness at Paradox, added: "We were immediately impressed when we saw The Chinese Room's proposal for Bloodlines 2. They have a true passion for the source material, making them ideal partners to develop a story in the Vampire: The Masquerade setting that resonates with players.
"We are committed to making Bloodlines 2 a success. Bringing on a studio that shares our vision was critical to helping us achieve these goals. Fans of the franchise can rest assured knowing that Bloodlines 2 is in good hands, and we will have more to share with you in January."
Bloodlines 2 has had a troubled and protracted development. It was initially being developed by Hardsuit Labs and was scheduled for release in 2020.
However, in August 2020 the action RPG sequel was delayed to 2021 and both its creative director and lead narrative designer were fired.
In February 2021 Paradox delayed Bloodlines 2 again and announced it had pulled development from Hardsuit Labs.
Paradox CEO Fredrik Wester later revealed that the company came close to scrapping Bloodlines 2 completely after cutting ties with Hardsuit.
Related Products
Other Products
Some external links on this page are affiliate links, if you click on our affiliate links and make a purchase we might receive a commission.