Charles Martinet will no longer be voicing Mario, Nintendo says
He will instead be taking on the new role of 'Mario Ambassador'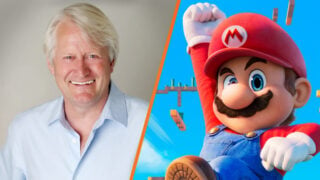 Charles Martinet will no longer be voicing Mario, Nintendo has announced.
In an official tweet, the company stated that Martinet – who has voiced the mascot for over 25 years – will be stepping down from voice acting duties and will instead be taking on a new role of 'Mario Ambassador'.
"Charles Martinet has been the original voice of Mario in Nintendo games for a long time, as far back as Super Mario 64," the statement reads.
"Charles is now moving into the brand-new role of Mario Ambassador. With this transition, he will be stepping back from recording character voices for our games, but he'll continue to travel the world sharing the joy of Mario and interacting with you all!
Update
Nintendo has confirmed that Martinet will not voice any characters in the upcoming Super Mario Bros. Wonder.
"Character voice actors will be credited in the game credits, so please wait for the game to be released," a spokesperson said.
"It has been an honor working with Charles to help bring Mario to life for so many years and we want to thank and celebrate him. Please keep an eye out for a special video message from Shigeru Miyamoto and Charles himself, which we will post at a future date."
Speculation about Martinet's role as Mario grew in June, following the announcement of several new Mario-themed games, including Super Mario Bros Wonder and WarioWare: Move It.
Both these trailers featured soundbites from characters traditionally voiced by Martinet, but some believed they didn't quite sound like him, to the point where 'Charles Martinet' was one of the trending topics on Twitter following the announcements.
The debate around Mario's voice in the games was exacerbated by the fact that Martinet, who used to post fairly regularly on Twitter, didn't post anything between March and July.
Martinet broke his silence by quote-tweeting Nintendo's announcement, saying: "My new adventure begins! You are all Numba One in my heart!"
The decision may have been accelerated by the release of The Super Mario Bros Movie, and the controversy around the decision to cast Chris Pratt as Mario and reduce Martinet to cameo roles.
Related Products
Super Mario Odyssey
Other Products
Some external links on this page are affiliate links, if you click on our affiliate links and make a purchase we might receive a commission.