CD Projekt 'migrating to a dual-franchise model' with The Witcher and Cyberpunk
Company implies Witcher 3 sequel is deep in development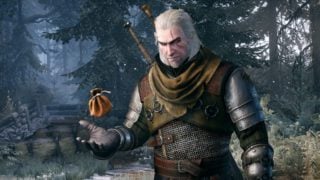 CD Projekt's latest financial report states the Polish company is "migrating towards a dual-franchise model" with The Witcher and Cyberpunk series.
"Managing two separate major franchises (The Witcher and Cyberpunk), along with several independent development teams, enables the Company to conduct parallel work on several projects and smoothens its long-term release schedule," the company said in its financial report for the six months ended June 30, 2019.
"This migration towards a dual-franchise model supported by several independent product lines also permits optimization of manufacturing and financial activities, mitigates important risk factors and makes it easier for company employees to seek professional fulfillment."
While not unexpected, the firm's report also suggests subsidiary CD Projekt Red is deep in development of a sequel to 2015's The Witcher 3: Wild Hunt – which has sold over 20 million copies and is set for release on Switch in October – and may already be working on a follow-up to Cyberpunk 2077, which is scheduled to release in April 2020.
"CD Projekt Red usually takes between 2 and 4 years to produce a game," it reads. "Initial development work occurs before the previous game in the series is complete and ready to be released."
In July, CD Projekt moved to play down quotes attributed to top executives at the company suggesting a Cyberpunk sequel is already in development.
Elsewhere in its financial report, CD Projekt highlighted the "very strong" initial performance of the Cyberpunk 2077 PC pre-order campaign between its launch on June 9 and the end of the company's financial reporting period on June 30.
During this period, roughly one third of all Cyberpunk 2077 digital PC pre-orders were placed via CD Projekt's digital distribution platform GOG.
The company's first half revenue was up 27% year-over-year to $54 million, while its net profit fell 1.3% to $13 million.
CD Projekt Red is scheduled to show 15 minutes of Cyberpunk 2077 gameplay during a live stream on Friday, kicking off at 8pm CEST (7pm UK /11am PST/2pm PST).