CD Projekt is officially working on a Cyberpunk sequel, Witcher trilogy and more
The new Cyberpunk will "prove the full power and potential of the Cyberpunk universe"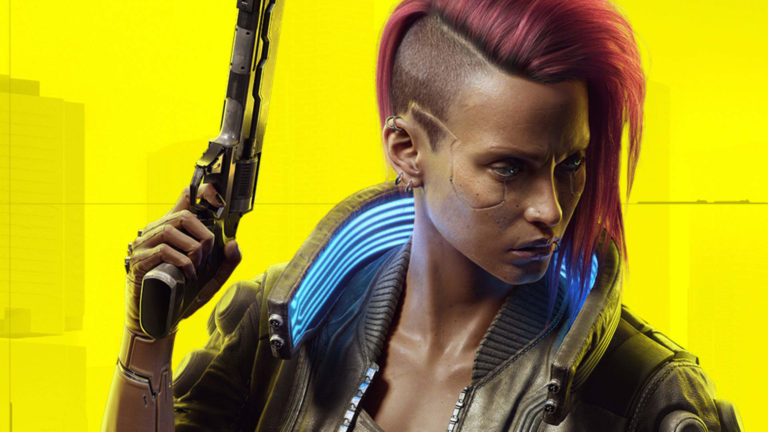 CD Projekt has announced it's working on a Cyberpunk 2077 sequel, a new trilogy of Witcher games, Witcher spin-offs, and an original IP.
The news comes via a broad overview of CD Projekt's development pipeline published on Tuesday, in which it revealed it intends to support three franchises going forwards; Cyberpunk 2077, The Witcher and a new IP.
The Cyberpunk 2077 sequel – codenamed 'Project Orion' – will be developed by CD Projekt Red North America, a new studio opening in Boston, USA, and "prove the full power and potential of the Cyberpunk universe", the company said.
Work on Orion will begin after the release of the upcoming Cyberpunk 2077 expansion, Phantom Liberty, next year, CD Projekt said in an investor call.
"Our plans are certainly ambitious, and call for a great deal of work, dedication and further growth," CD Projekt VP and CFO  Piotr Nielubowicz said in a statement. "This is why we're setting up a new team in Boston, which, together with the expanding Vancouver team, will form our new studio – CD Projekt Red North America. As a result, we will be able to fully tap into the North American talent pool."
The company's original IP – codenamed 'Project Hadar' – has been incubated since late last year, is currently in the conception phase by a small team, and will be distinct from The Witcher and Cyberpunk 2077, CDP said.
CD Projekt's business development boss Michał Nowakowski emphasised that work was still early on Hadar. "It is important to understand that right now we are still working on basic concepts and laying the groundwork for this new franchise," he said.
On The Witcher, CD Projekt confirmed that the fourth mainline Witcher game – announced earlier this year – will be the start of a new trilogy. All three games are planned to be released within a six-year period after the first, it said.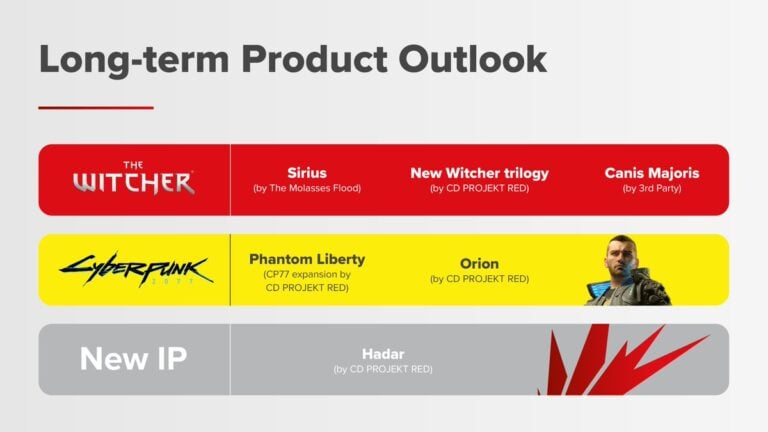 In addition to the new trilogy, "an innovative take on The Witcher universe" is in development at The Molasses Flood, the American studio behind Flame in the Flood it acquired last year, codenamed 'Project Sirius'. CD Projekt describes that project as "an unforgettable story for existing Witcher fans and new audiences".
"The game will be set in The Witcher universe, but it differs from our past releases in that it targets a much broader audience," said Kiciński. "Sirius will provide both single-player and multiplayer gameplay."
Finally, CD Projekt announced it's working on another "full fledged" Witcher game with "a third-party studio led by ex-Witcher veterans". Project Canis Majoris, is a story-driven, single-player open-world RPG set within The Witcher universe, it said.
"This is the first such product being developed outside of the Group," commented Kiciński. "However, this does not imply that its quality will lag behind our in-house productions. From the technological standpoint it will be based on Unreal Engine 5, along with the toolset created for Polaris. Expect additional announcements soon."
CD Projekt said it intends to implement a franchise "flywheel" concept, in which it develops an ecosystem of "mutually reinforcing products" across various mediums. As part of this, it said it's opening up to collaboration with external teams.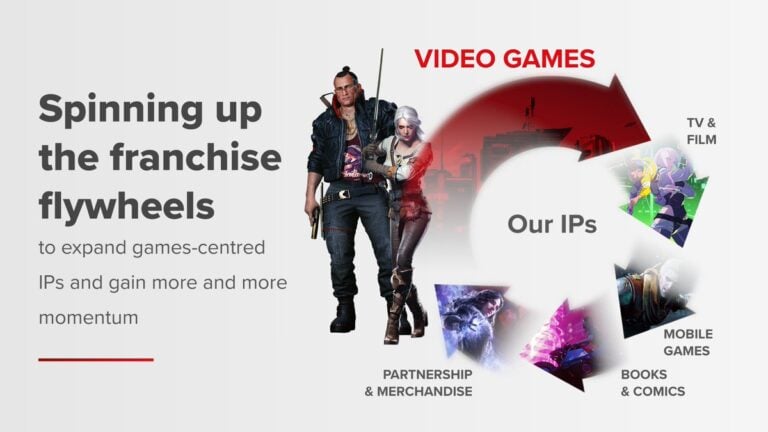 "Our goal is to work with experienced partners who can meet our quality requirements and deliver worthwhile experiences for our fans," said Nowakowski.
"We are doing this to create new, exciting ways of interacting with our brands, and also to enable our internal teams to focus on what drives us as a company: developing revolutionary role-playing games."
Kiciński added: "Thinking ahead, we're now looking at three unique, strong and enduring franchises. At the center of each we envision a growing number of single-player games with memorable storylines, enhanced with multiplayer experiences.
We see CD PROJEKT as a growing force, shaped by teams which take pride in their achievements and take bold steps to realize their ambitions."