CD Projekt explains why Witcher game 'Project Sirius' has seemingly been restarted
"It's better to cut costs early and even restart if needed than to carry on"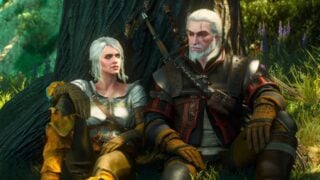 CD Projekt has shed more light on the apparent decision to go back to the drawing board with 'Project Sirius', a new take on the Witcher series first announced last October.
In a regulatory announcement last week the company told investors it had established an impairment allowance related to expenses incurred developing the game.
It said the value of the expenses incurred totalled 33.4 million PLN ($7.6m) in 2022 and 9.5 million PLN ($2.2m) in the first two months of 2023, and that these sums "will accordingly burden the [company's] financial results".
While it wasn't clear at the time exactly what this meant in terms of the game's development, today CFO Piotr Nielubowicz shed more light on the situation during a presentation on the company's 2022 earnings.
"I'm aware that it's not great to hear from a company that the project is being re-evaluated," Nielubowicz explained.
"But at the same time, in order to stay innovative we must experiment and be brave when trying new paths, and to stay in control and keep the right course, especially with a project that is new to us in terms of design, developed by a new studio in our family.
"We need to keep evaluating the situation as we move along. It's better to cut costs early – and even restart if needed – than to carry on.
"As a result of this approach, we experienced negative results on our other operating activity linked to the impairment related to Project Sirius, which we reported 10 days ago."
In a Q&A following the presentation, the topic of Project Sirius was raised again, and CEO Adam Kiciński recapped what had been said by Nielubowicz, adding that the establishment of the impairment allowance was "a tough decision to make, but we also believe it was the right one".
He added: "Our intention was to cut costs early and give ourselves time for re-assessment. We don't want to carry on with projects that we are not aligned with. So basically that's all we'd like to share about Project Sirius for now."
The company announced last October that it was working on a Cyberpunk 2077 sequel, a new trilogy of Witcher games, Witcher spin-offs, and an original IP.
These projects included Project Sirius, an "innovative take on The Witcher universe" in development at The Molasses Flood, the American studio behind Flame in the Flood, which CD Projekt acquired in 2021.
At the time, CD Projekt CEO Adam Kiciński said: "The game will be set in The Witcher universe, but it differs from our past releases in that it targets a much broader audience. Sirius will provide both single-player and multiplayer gameplay."
Related Products
Other Products
Some external links on this page are affiliate links, if you click on our affiliate links and make a purchase we might receive a commission.