Captain America and Indiana Jones could be coming to CoD: Vanguard
Dataminers reportedly uncover reference to the Disney heroes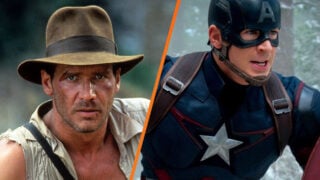 Captain America and Indiana Jones could be the latest crossover characters coming to Call of Duty.
Dataminers claim to have uncovered references to the two characters in Call of Duty: Vanguard's game files, as well as artwork seemingly set to appear in the game's Operator store (posted below by a Twitter user).
VGC has also seen additional artwork claimed to have been pulled from Vanguard's game files, including Playercards featuring Indy and Cap.
The two Disney-owned characters' fictions fit well with Vanguard's timeline, since Captain America's origin story, and virtually all of Indiana Jones' adventures, take place around World War II.
Call of Duty has a recent history of tying its online offering with popular Hollywood movies. Earlier this year, Warzone's Verdansk 1984 map coincided with the addition of John McClane from Die Hard and John Rambo.
Then this summer it partnered with Rebellion Developments to put iconic comic hero Judge Dredd into Warzone. Warzone's annual Halloween events have also seen characters from Scream, Saw and Texas Chainsaw Massacre added for purchase.
Previously, Call of Duty's movie tie-in bundles have cost around 2,400 CoD Points (about $20) and included additional weapon skins, emblems and emotes.
Since Vanguard is set to be integrated with Warzone next month, the new Operators – if real – will also be playable in the battle royale game.
Captain America and Indiana Jones is the latest alleged Vanguard content uncovered by dataminers. Earlier this week, users unearthed details on new Operators that could be headed to the game and further evidence of an upcoming Attack on Titan crossover.
Dataminer Nanikos posted the first images of what are claimed to be three new playable characters coming to the game, possibly during Season 1. They are Francis (USA), Lewis (USA) and Isabella (Philippines).
Fellow dataminer Zesty also claims to have found references to several more upcoming Operators including Anna, Gustavo, Imp and Thomas.
Last week, dataminers made discoveries hinting at plans for a Vanguard crossover with the popular anime Attack on Titan, including a likely Operator and weapon bundle.
Further evidence has since been uncovered in the form of a sword model expected to be released as part of the crossover.
Call of Duty: Vanguard and Warzone Season 1 will arrive on December 2 alongside the battle royale game's new Pacific map Caldera.
According to VGC's Call of Duty Vanguard review, Sledgehammer's game "feels like a solid step-up from Black Ops Cold War, but falls short of the benchmark that was Modern Warfare 2019″.
Related Products
Other Products
Some external links on this page are affiliate links, if you click on our affiliate links and make a purchase we might receive a commission.