Capcom shows 13 minutes of Resident Evil 3 gameplay
Remake releasing in one month on April 3
Capcom TV's latest stream included 13 minutes of Resident Evil 3 gameplay.
The upcoming remake follows Jill as she attempts to escape Raccoon City in the immediate aftermath of a virus outbreak, before the events of Resident Evil 2.
The Resident Evil 3 section of the stream kicks off at the 42:11 mark in the video above.
Capcom is also planning an English Resident Evil 3 gameplay stream via its Twitch and YouTube channels on Wednesday at 7pm GMT / 8pm CET / 2pm ET / 11pm PT.
The game was announced in December with an April 3, 2020 release date. It will come with new asymmetric multiplayer mode Resident Evil Resistance.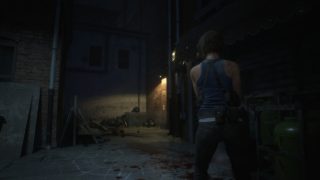 On February 25, Capcom confirmed plans to release a Resident Evil 3 remake demo and promised to provide more details in the "near future".
VGC published a Resident Evil 3 remake hands-on report featuring new details and screenshots last week.
Resident Evil and PlatinumGames veteran Kiyohiko Sakata is the game director for Resident Evil 3, which is being partly developed by M-Two Inc, a new studio founded by former Platinum CEO Tatsuya Minami, VGC understands.