Capcom releases new Monster Hunter World: Iceborne videos
Story and new mechanics revealed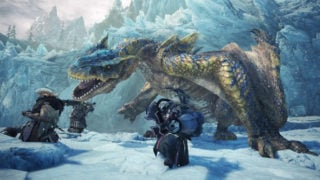 Capcom has released a number of Monster Hunter World: Iceborne videos, highlighting some of the new mechanics set to feature in its 2019 expansion.
Iceborne features a new story that begins after the events of Monster Hunter World, and an amount of content which Capcom says rivals the main game, including new monsters, environments, moves and equipment.
The first video released on Tuesday highlights the game's story, while teasing more mysteries about its new land, the snowy Velkhana.
The others showcase the game's new Clutch Claw tech and other new features revealed for every weapon type.
The $39.99 expansion pack requires the base Monster Hunter World game to play and will release on September 6, 2019 for PS4 and Xbox One. A PC release will follow in winter 2019.
The game's main new locale is a snowy, polar stage which Capcom says is the largest region in Monster Hunter World so far.
Capcom confirmed on Tuesday that it will be holding several live stream and stage activities during E3 2019, which you can find detailed on the Capcom blog.