Call of Duty Warzone's Season 6 Battle Pass has added Vanguard guns
24 items from the upcoming game can be unlocked and used in the battle royale title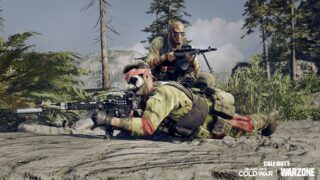 The Black Ops Cold War and Warzone Season 6 Battle Pass has been expanded to include 24 items from Sledgehammer Games' upcoming Call of Duty: Vanguard.
These items can be earned for free by playing Black Ops Cold War or Warzone and used immediately in the battle royale game, ahead of Vanguard's release on November 5.
When viewing the Battle Pass, the additional 24 tiers of free Vanguard content are positioned alongside existing tiers and are visible using a toggle.
Call of Duty: Black Ops Cold War & Warzone Season 6 Battle Pass Trailer
As in previous years with Modern Warfare and Black Ops Cold War, weapons, Operators, and other content will be shared across Vanguard and Warzone.
The headline additions to the Season 6 Battle Pass are two new weapons: the German STG 44 assault rifle and US marksman rifle the M1 Garand, both of which are available with two weapon blueprints.
Bonerattler STG 44 (seven attachments) – Tier 24
Warning Track STG 44 (10 attachments) – Tier 64
White Obsidian M1 Garand (eight attachments): Tier 34
Heirloom M1 Garand (eight attachments): Tier 72
Players will be able to level up the weapons but won't be able to modify their attachments or appearance prior to Vanguard's release.
As detailed on the Call of Duty blog, the other Vanguard items available to unlock include double XP tokens, calling cards, emblems, sprays, weapon charms, stickers and a watch wrist accessory.
In an open letter to cheaters this week, Activision indicated that it's planning to unveil Warzone's new anti-cheat system on Wednesday.