New Call of Duty Warzone Pacific map trailer offers a tour Caldera
Operation Vulcan takes place in December 1944 "somewhere in the Pacific"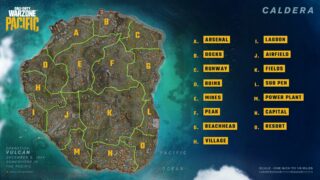 Activision has officially revealed Call of Duty Warzone's new map Caldera.
An image of the map confirms that the Caldera era of Warzone kicks off with 'Operation Vulcan', which is set in December 1944, while a new trailer offers a whistle-stop tour of the Pacific island.
The scale map includes the names of 15 district areas players can drop into and the locations of numerous points of interest.
Warzone Pacific map Caldera preview trailer
The 15 main zones are Arsenal, Docks, Runway, Ruins, Mines, Peak, Beachhead, Village, Lagoon, Airfield, Fields, Sub Pen, Power Plant, Capital and Resort.
Replacing the game's original map Verdansk, Caldera will launch as part of Call of Duty: Vanguard and Warzone Season 1.
Caldera's release was recently delayed by one week to December 8.
---
More Call of Duty:
Modern Warfare 2 release date | Best Vanguard loadout | Call of Duty Vanguard review | Modern Warfare 2 (2022) details | Best Warzone loadout | Warzone best sniper | Warzone best SMG | Warzone best Stoner 63 | Warzone best AK-47 | Warzone best Bullfrog
---
Ahead of Caldera's release, a Call of Duty Vanguard player discovered what appears to be a low-poly version of Caldera thanks to a spectator camera bug.
While playing on Vanguard's recently launched Shipment map, they used the spectator cam to leave the confines of the battlefield and float through what looks to be Warzone's newest location.
VGC exclusively revealed in June that Warzone's new map would be set in the Pacific. Developer Raven Software confirmed this in September, saying it would feature completely original locations and share new engine technology with Vanguard, which is powered by an updated version of the Modern Warfare engine.