Call of Duty: Warzone's Metro trains will offer the game's 'one true safe area'
Activision explains how the subway will work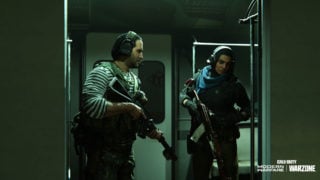 Acitivison has explained how Call of Duty: Warzone's metro trains will work when they're added with Season 6.
Season 6 is due to start on Tuesday, September 29 and add seven Metro stations around the Verdansk map. According to a new blog post, the stations themselves won't add a huge amount of new surface area, but their impact on matches should be significant.
At the start of every match, the Metro will have a number of open stations to explore. All of them have the same layout and will contain a high level of loot to uncover, according to Activision.
Trains themselves will go in either direction around Verdansk and offer players with a fast travel system across the map.
Significantly, trains will not move to a station that is outside of the circle collapse, so that players don't board a train and inadvertently be sent to their deaths.
The Metro will also stop moving if there's any conflict on board, or between the train and the platform. Activision said it wants to make the Metro the "one true safe area" where players can reload, swap items or take a break from combat.
Escape ladders found at every Metro station can be used as an alternative entrance to the fast travel system, or as an emergency exit if combat becomes too intense.
In addition to the Metro system, Season 6 will add the game's latest operators Farah and Nikolai. Farah is unlocked at tier 0 of the Season 6 Battle Pass, while Nikolai can be unlocked at tier 100.
Ahead of Season 6's arrival, Activision will run a Modern Warfare and Warzone Double XP weekend.
Double XP, Double Weapon XP, and Double Battle Pass progression will be available from 10am PT/1pm ET/6pm UK on September 25 until 10am PT/1pm ET/6pm UK on September 28.
The latest Warzone playlist update will see Battle Royale Solos, Duos and Trios, and Quads and Plunder Quads available throughout this week, and Warzone Mini Royale Trios available this weekend only.
Mini Royale is a condensed and more frantic version of the main Battle Royale mode played out across a smaller section of Verdansk with a reduced player count.
In multiplayer, available modes this week will include 24/7 Shoot House and 24/7 Shipment, Gunfight 3v3 Snipers, and an objective moshpit in the form of Deathmatch Domination + Drop Zone.