Call of Duty Warzone's latest update removes counter UAVs from loot
Item can still be activated by four-person squads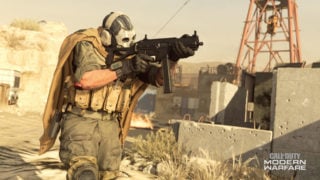 Infinity Ward has released a small Call of Duty Warzone patch which removes Counter UAVs from the game's loot pool.
Counter UAVs, which temporarily block opponents' mini-maps, had been appearing in loot crates. However, this appears to have been unintentional and Warzone's developer has now removed them from general loot.
The items can still be obtained by using four UAVs at once when playing with a squad.
The battle royale game will introduce significant map changes in Call of Duty Warzone's Season 5 update scheduled for early August, VGC understands.
The changes include a revamp of the game's large football stadium to include an open interior, and the addition of a loot-filled train which will continuously circle the game map, people involved with its development said.
The additions are part of an effort to bring Warzone's Verdansk game map more in line with the next Call of Duty title, which will be set during the Cold War.
You can read the full patch notes for Thursday's Warzone update below.
GENERAL FIXES:
Fix for incorrect text appearing as one of the SUV camos
Fix for the Rytec AMR not awarding the correct amount of XP when using explosive rounds
Fixed an issue where the Rytec AMR could one-hit kill when using explosive rounds in BR
Fix for the Fully Loaded gun perk not functioning as intended when equipping alternate ammunition on the Rytec AMR
Fixed a bug where a CUAVs could be found in Warzone
Fixed an issue where some players were unable to use Field Upgrades in FFA
Fix for an issue where players were able to go AFK while playing All or Nothing