Call of Duty Warzone's anti-cheat kernel-level driver is now available globally
It will be added to the PC version of Call of Duty Vanguard later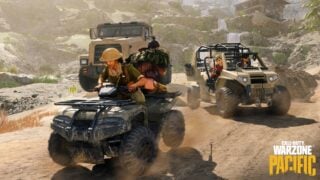 Activision has rolled out Call of Duty Warzone's anti-cheat kernel-level driver globally.
Following its launch in the Asia-Pacific region last week, the driver is now available worldwide, the company said on Wednesday.
The driver will automatically install alongside a Warzone Pacific update on Battle.net and is required to play the game on PC.
The Pacific Launch Trailer | Call of Duty: Vanguard & Warzone
The driver, which will be released for Call of Duty: Vanguard at a later date, "operates with high privileges on your computer, able to access all resources on your system while it is running".
According to an Activision FAQ, this allows the game to detect any anti-cheat software that may be running in the background.
---
More Call of Duty:
Modern Warfare 2 release date | Best Vanguard loadout | Call of Duty Vanguard review | Modern Warfare 2 (2022) details | Best Warzone loadout | Warzone best sniper | Warzone best SMG | Warzone best Stoner 63 | Warzone best AK-47 | Warzone best Bullfrog
---
It states that cheating software has become more sophisticated and is now able to manipulate the game's code without running in the game itself. This can make it impossible to detect with in-game anti-cheat methods.
The driver allows the game to monitor any other applications that may be running at the same time, which lets Warzone's anti-cheat team figure out whether a player was using an unauthorised process to manipulate the game.
Although the driver is required to play Warzone, Activision claims it will only run while users are playing the game and will shut down as soon as they exit.
Activision announced on Monday that it's planning a Call of Duty Vanguard multiplayer free access promotion from December 16-21.
A Christmas-themed Vanguard and Warzone event titled 'Festive Fervor' will kick off on December 17.