Call of Duty Warzone update suffers last minute delay
Patch was due to add weapons and "free modes"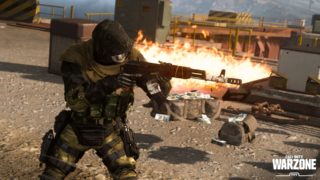 Infinity Ward has delayed the deployment of a Call of Duty Warzone update which was due to have gone live in the past few hours.
In a statement published on Twitter, the developer did not give a reason for the postponement but said it would attempt to redeploy the update in "the coming days".
The game update was due to add, among other things, new weapons and a character to Warzone.
Infinity Ward also said the update would include new "free modes," suggesting it could have planned to activate duo or quad team setups.
Warzone launched with two 150-player game modes, Battle Royale and Plunder, although developer Infinity Ward has said it will support 200-player matches in the future, and that it's working on new game modes.
The latest Call of Duty Warzone update introduced a Solos option for the game's Battle Royale mode.
Call of Duty: Warzone features unified progression with Modern Warfare's Battle Pass and shares the same Item Shop.
Warzone has attracted over 30 million players in the 10 days since its release, according to publisher Activision.
By way of comparison, fellow free-to-play battle royale game Apex Legends, which released in February 2019, attracted approximately 2.5 million players in 24 hours, 10 million players in three days, and 25 million in one week, according to developer Respawn.