Call of Duty Warzone is allowing fans to pre-load Season 5
Update: Activision confirms report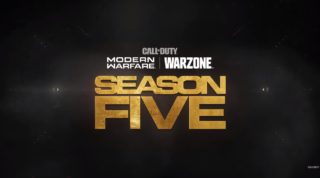 Call of Duty Warzone is allowing PS4 players to pre-load the game's latest sizable update.
According to Modern Warzone, the 36GB Season 5 update will unlock on Wednesday, August 5 at 11pm PT / 7am BST. [UPDATE: Activision has confirmed the report.]
It's the first time Warzone has allowed players to pre-load a seasonal update, which have been criticised for their increasing file size.
According to Infinity Ward's production director Paul Haile, the latest patch, although large in file size, will actually reduce the overall space Warzone takes up via asset optimisation.
"Season 5 is coming soon, and its big," he wrote. "With the update we're including all the new content for the season as well as optimizing our asset packs.
"This means the download will be big, but the overall size of the game will actually shrink on your consoles after you download the patch, even though we're adding a bunch of new content for the season."
Haile added: "It's a priority for us to keep working on reducing the overall size of MW & WZ on your hard drives, but at the same time also delivering new seasons for everyone to enjoy. We'll continue to work on this and keep pushing space reductions out with future updates."
Activision released the first trailer for Call of Duty Warzone's Season 5 update last week and confirmed a release date of Wednesday, August 5.
The trailer offers the first look at new operatives from Shadow Company, an elite private military company with "a framework and agenda all of their own."
The video puts significant focus on the Stadium – which is understood to be opening in Season 5 – and imagery showing the nuclear bomb hidden in one of Warzone's secret bunkers.