Call of Duty Warzone Season 3 leak points to Duos and Quads release
Datamined info reveals upcoming playlists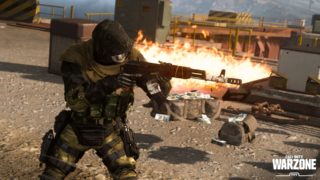 Call of Duty Warzone's upcoming Season 3 could add Duos and Quads playlists, according to the latest datamined info.
Dataminer Senescallo has uncovered a number of files pertaining to Modern Warfare's upcoming third season, which is due to start around April 7 and last 8 weeks.
Warzone features unified progression with Modern Warfare's Battle Pass and shares the same Item Shop.
Update, April 7: Activision has released a Call of Duty: Modern Warfare and Warzone Season 3 trailer revealing new maps, bigger squads and more.
Original story continues: According to the info, Season 3 could contain a number of new playlists for the free-to-play battle royale game, including:
Battle Royale Duos
Battle Royale Quads
Battle Royale High Action

Loot and Kill. The Gas closes in faster, so get moving.

Battle Royale Shotty Snipers

Shotguns and Snipers only. Near? Far? Wherever…BR. There are no Loadout drops.

Battle Royale One Shot

Battle Royale with 1-shot Headshots and no loadout drops.

Realism Battle Royale
Hardcore Battle Royale
The datamine also suggests the addition of two new weapons (SKS and Renetti), two new Operators (Alex and Ronin), plus a pair of Modern Warfare multiplayer map remakes (Backlot from MW2 and Village from MW3).
Files also suggest the long-expected Modern Warfare 2 Campaign Remastered could release during Season 3.
Infinity Ward released the latest Modern Warfare and Warzone update on Friday, adding new weapons, raising the price of Loadout Drops and fixing various bugs and exploits.
The Plunder: Blood Money game variant has also been added to Warzone, in which players receive guaranteed cash drops on kills, and Bounty Contracts and Finishing Moves pay extra.