Call of Duty: Warzone has reportedly banned 20,000 players including a popular streamer
Activision 'identifies new cheat software'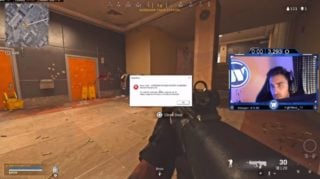 Activision reportedly banned around 20,000 Call of Duty: Warzone players on Monday after it detected a popular cheat.
According to Motherboard, Activision took action against users of a specific cheat, called EngineOwning, including a prominent Twitch streamer who was banned mid-game.
Nick Wagner, a Twitch player who goes by the name Wagnificent, was banned in the middle of a Warzone match on Monday. Following his first kill, Wagner's computer froze and, after restarting, he'd been permanently banned from Warzone.
UPDATE 01/10/20: Infinity Ward says over 200,000 Call of Duty: Modern Warfare and Warzone accounts have been banned for cheating since the games released in October 2019 and March 2020 respectively.
ORIGINAL STORY CONTINUES: Citing an anonymous former Activision employee, Motherboard reports that these waves of bans are now relatively frequent in Call of Duty.
"It's rare that any one particular cheat will last long term without getting detected at some point," the former employee reportedly said. "It's always a game of cat and mouse, people that actively use cheats should understand it's highly likely you'll be banned at some point and you'll just have yourself to blame."
In April Infinity Ward pledged to operate a "zero tolerance" policy on players who use aimbots, wallhacks and similar cheats with the deployment of dedicated security updates.
The issue of aim bots and similar cheats is made even more significant considering PC players can play against those on consoles – and only PS4 users can disable cross-platform matchmaking.
In an attempt to curb cheating on PC, new free-to-play players are required to authenticate their accounts using SMS.
Additionally, matchmaking was updated to match suspected cheaters together, and report-a-player functionality was added to the killcam and spectator screens.
Publisher Activision claimed earlier this year to have banned over 70,000 players for cheating in Call of Duty: Warzone.
"We take all forms of cheating very seriously, maintaining a level and fair playing field for everyone is among our highest priorities," the publisher said. "We have been enforcing account bans since Day 1 of Warzone's release."