Call of Duty Vanguard's multiplayer beta has been extended
The cross-play test will now run until September 22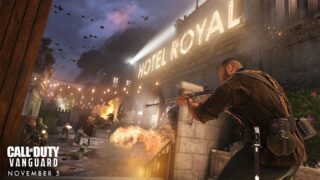 Call of Duty Vanguard's cross-play beta has been extended until Wednesday.
The multiplayer test kicked off last Thursday for all PlayStation users as well as Xbox and PC players who had pre-ordered the upcoming shooter.
It was then opened up to all players on all platforms until at 10am PT / 1pm ET / 6pm BST / 7pm CEST today, but has now been extended by 48 hours.
Call of Duty: Vanguard Multiplayer Trailer
Once downloaded, players can launch into the beta from the main menu of Warzone, Black Ops Cold War or Modern Warfare.
The multiplayer test includes Patrol, a new mode which tasks players with capturing and holding a moving zone to earn points for their team.
"Call of Duty veterans can think of Patrol as Hardpoint with a 'Patrol Zone' that moves along the map rather than changing positions every minute," according to Activision.
Other game types available in the beta include traditional Call of Duty modes Team Deathmatch, Domination and Kill Confirmed.
Players can also experience Champion Hill, as first seen in the PlayStation alpha test.
Maps available in the beta include Hotel Royal in Paris, France, Gavutu, which takes place Gavutu Island in Japan, Red Star, set in a wintry Stalingrad, Russia, and Eagle's Nest in Berchtesgaden, Germany.
Call of Duty: Vanguard's 20 multiplayer maps were seemingly revealed via a datamine of the multiplayer beta.
The beta has also been targeted by cheaters in recent days, although a new anti-cheat system is expected to launch alongside Vanguard on November 5, 2021.
As exclusively revealed by VGC earlier this year, Vanguard is powered by an updated version of the Modern Warfare engine, and Raven Software plans to launch a new WWII-themed Warzone map to coincide with Vanguard's release.
Next Year's premium Call of Duty game will reportedly be a sequel to 2019's Modern Warfare. According to people with knowledge of Activision's plans, Modern Warfare 2 will include a campaign involving US special forces fighting a covert war against Columbian drug cartels.