Call of Duty: Vanguard's alpha test is now live for PlayStation owners
PS4 and PS5 users can play Champion Hill now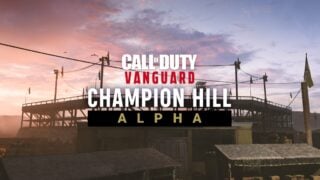 The Call of Duty: Vanguard alpha test is now live on PlayStation 4 and PlayStation 5.
Until Sunday, August 29 at 10am PT / 6pm BST, PlayStation users will be able to participate in the alpha by downloading it from the PlayStation Store and then booting it from either Warzone, Black Ops Cold War or Modern Warfare.
The alpha debuts Vanguard's Champion Hill, the mode previously described as "Gunfight Battle Royale".
Champion Hill is a progression of the small squad multiplayer mode introduced with 2019's Modern Warfare, now extended to a large map split into sections, with multiple teams battling to be the last squad standing.
"In Champion Hill, your squad — either a Duo (2v2) or Trio (3v3) during the Alpha — will compete in a round-robin deathmatch tournament against other squads," the game's developer Sledgehammer explained.
"Everyone starts with the same Loadout, and while it can be lethal, collecting Cash — earned by taking enemy lives and picking up drops scattered around the map — will allow you to upgrade your starting weapons and purchase new armaments, equipment, Perks, and Killstreaks during Buy Rounds that happen between Combat Rounds."
Champion Hill takes place on one large map split up into five sections; the Airstrip, the Trainyard, the Market, and the Courtyard. Once players are eliminated, they can watch how the tournament ends from a spectator platform.
More Call of Duty:
Modern Warfare 2 release date | Best Vanguard loadout | Call of Duty Vanguard review | Modern Warfare 2 (2022) details | Best Warzone loadout | Warzone best sniper | Warzone best SMG | Warzone best Stoner 63 | Warzone best AK-47 | Warzone best Bullfrog
The alpha represents the first time the public will be able to try Vanguard before its release on November 5, including its new destructive environments and customisable armaments.
Last week Sledgehammer confirmed plans for a multiplatform multiplayer beta, which will take place beginning Friday, September 10 on PlayStation platforms, then beginning September 16 on other platforms for pre-order customers, and open to all from September 18.
Call of Duty Vanguard's multiplayer mode is set to be shown in detail via a larger reveal on September 7.