Call of Duty Vanguard writers hope to make two sequels to the game
"We want to make Vanguard 2 and Vanguard 3"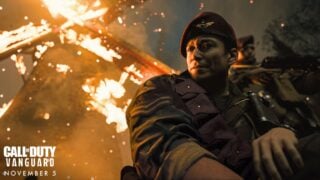 A pair of Call of Duty: Vanguard writers have said they want to help create two sequels to the game.
Discussing the upcoming shooter and its prequel comic during a New York Comic Con panel, Sledgehammer Games contractor Sam Maggs said she hopes Vanguard's characters can become new mascots for the blockbuster franchise over multiple series entries.
"We came into this process saying, 'how do we make the iconic CoD characters?' because you don't really have that in Call of Duty right now," she said. "You know when you think about a game like Halo, you think of Master Chief, but when you think of CoD there's not really those standout characters.
"And so we came into this being like, 'who could be our flagship CoD characters?' because we want to make Vanguard 2 and Vanguard 3, because we have two more stories that we really want to tell with these characters.
"So, we are hoping that if people love them as much as we do, that we get to continue to tell the story of these people and make them sort of like figureheads for this era of CoD basically."
Fellow Call of Duty: Vanguard writer and panellist Tochi Onyebuchi added: "That info, by the way, is a Comic Con exclusive. We have never said that publicly before."
Activision released a Call of Duty: Vanguard campaign trailer on Monday alongside a behind the scenes story trailer featuring insight from developers including Maggs and Onyebuchi.
Vanguard's story features five heroes, including playable characters Arthur Kingsley, Polina Petrova, Lucas Riggs, and Wade Jackson, who form an international squad tasked with eliminating the Axis threat toward the end of World War II.
"Players will witness the origins of Special Forces as they change the face of history, forming Task Force One in a sprawling World War II narrative campaign spanning the Eastern and Western fronts of Europe, the Pacific, and North Africa," according to Activision.
Call of Duty: Vanguard is scheduled for release on November 5, 2021 for PS5, PS4, Xbox Series X/S, Xbox One and PC via Battle.net.
Related Products
Other Products
Some external links on this page are affiliate links, if you click on our affiliate links and make a purchase we might receive a commission.