Call of Duty: Vanguard trailer reveals Treyarch's new Zombies experience
Stop the undead army with a fresh set of Dark Aether skills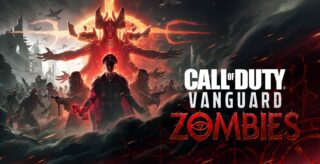 Activision has released the debut trailer for Call of Duty: Vanguard's Zombies mode.
Zombies is developed by the mode's original creator Treyarch, rather than Sledgehammer Games, which is leading development of Vanguard's campaign and multiplayer.
The "franchise-first crossover" is "the precursor to Black Ops Cold War Zombies", according to Activision.
Call of Duty: Vanguard - Zombies Reveal Trailer
"This cooperative experience continues and intertwines with the Dark Aether story to create deeply engaging lore, all while innovating on the core gameplay that the mode is famous for," it said.
"From Stalingrad to Shi No Numa, you'll fight Von List's undead army on all fronts" using a new set of abilities.
Call of Duty: Vanguard is scheduled for release on November 5, 2021 for PS5, PS4, Xbox Series X/S, Xbox One and PC via Battle.net.
First Look at Zombies | Call of Duty: Vanguard
A pair of Vanguard's writers said this month that they want to help create two sequels to the game.
Discussing the upcoming shooter and its prequel comic during a New York Comic Con panel, Sledgehammer contractor Sam Maggs said she hopes Vanguard's characters can become new mascots for the blockbuster franchise over multiple series entries.
Earlier today, Sledgehammer announced it's opening a new UK studio based in Guildford to support Vanguard's live seasons as well as future projects it has planned for the coming years.