Call of Duty Modern Warfare pulled from sale on Russian PlayStation Store
PS4 game's removal from digital storefront casts doubt over its Russian release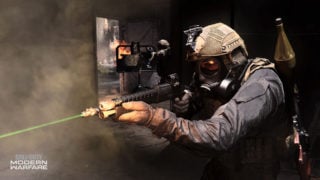 Call of Duty: Modern Warfare has been pulled from sale on the PlayStation Store in Russia, casting doubt over the game's release in the country.
The title has yet to be made available for pre-order at Russian retailers, although it has been available to pre-purchase via digital storefronts in the run-up to its October release.
Update, October 23: Sony decided not to sell Call of Duty: Modern Warfare on the Russian PlayStation Store, according to publisher Activision. The game will be released digitally for Xbox One and PC in Russia.
Original story continues: However, its removal from the PlayStation Store suggests Activision may be in the process of revising its plans to release the game in the country.
While the digital version of Modern Warfare currently remains on sale for Xbox One and PC in Russia, whether it will continue to do so is still "being clarified", local representatives for the game told DTF.
According to the site, rumours the shooter won't be released in Russia have been circulating for some time, following both its absence from Russian retail and local media criticism of the game's positive depiction of Syria Civil Defence volunteer rescue workers in its reveal trailer.
The humanitarian organisation, also known as the White Helmets, provides medical evacuation in rebel-controlled Syria, and has reportedly been the target of a Russian-backed disinformation campaign positioning it as an al-Qaida-linked terrorist organisation.
When approached by VCG on Friday, Activision declined to comment on the report.
Activision launched the Call of Duty: Modern Warfare multiplayer beta for PS4 on Thursday.
Early access is currently available to PS4 pre-order customers ahead of an open test on Sony's console from September 14-16, and cross-play testing on PS4, Xbox One and PC later this month.
The Call of Duty: Modern Warfare release date is October 25, 2019. The game's available to pre-order from Amazon, Best Buy and Game, among other retailers.