Call of Duty Modern Warfare 3 has been fully revealed, and it releases in November
All 16 launch maps from Call of Duty: Modern Warfare 2 (2009) will feature in the game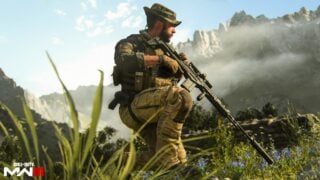 Call of Duty Modern Warfare 3 has been fully revealed, and it releases in November.
Following an in-game Warzone event, a new trailer (viewable below) fully unveiled the game, which Activision has been teasing, both intentionally and unintentionally, for some weeks. The game will be released on November 10.
The game will release in several versions including the Call of Duty Modern Warfare 3 Cross-Gen bundle, which includes the full game, early access to the open beta, and the ability to play the game's campaign a week early.
The Call of Duty Modern Warfare 3 Vault Edition includes:
Campaign Early Access (Preorder Benefit)
Open Beta Early Access (Preorder Benefit)
Soap Operator Pack (Preorder Benefit)
Nemesis Operator Pack
Two Weapon Vaults
The Nemesis Operator pack includes four operators,  Captain Price, Ghost, Warden, and Makarov.

"In the direct sequel to the record-breaking Modern Warfare II, Captain Price, and Task Force 141 face off against the ultimate threat. The ultranationalist Vladimir Makarov is extending his grasp across the world, causing Task Force 141 to fight like never before," reads a description of the game's campaign.
The game will also introduce what it calls Open Combat Missions. "Not only do these complement the cinematic missions you've come to expect, but they also provide you with numerous additional choices regarding your methods of mission completion.
"For example, if you prefer to use stealth techniques, you may wish to undertake an OCM with a lights-out approach, using night-vision goggles and suppressed weapons and complete your objectives without your adversaries knowing you were even there.
"However, if loud explosions and reckless abandon are part of your repertoire, strap extra armor plates onto your torso and hit those targets head-on."
It's also been confirmed that all 16 launch maps from Call of Duty: Modern Warfare 2 (2009) will feature in the game.
These maps have been "modernized, both graphically and with meticulous attention given to the authenticity and aspects of the maps that made them so popular."
Related Products
Other Products
Some external links on this page are affiliate links, if you click on our affiliate links and make a purchase we might receive a commission.