Call of Duty Mobile Season 9 will add Gunsmith customisation and Shipment 1944 map
New content set to launch imminently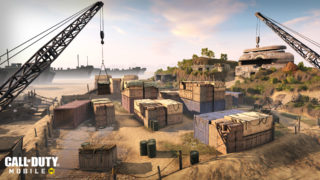 Call of Duty Mobile Season 9 will introduce the Gunsmith weapon customisation feature and multiplayer map Shipment 1944, Activision has confirmed.
Gunsmith, which was introduced in Call of Duty: Modern Warfare, will enable players to create their own weapons in multiplayer and battle royale.
Teasing Gunsmith ahead of its upcoming release, Activision said: "This new feature or system fulfills many long-term requests from the community regarding adding more progression, adding more customization options, adding more Battle Royale options, and revamping the UI."
Shipment 1944 is a close quarters multiplayer map that originally featured in Call of Duty: WWII. It is a remake of the Shipment map which debuted in Call of Duty 4: Modern Warfare.
Season 9 is set to launch imminently, following the conclusion of Call of Duty Mobile Season 8, The Forge, which introduced multiplayer map Highrise and multiplayer mode Juggernaut, among other features.
Call of Duty Warzone Season 5 is due to start on August 5 and could finally add five-player teams.
As first reported by VGC in July, Season 5 will see the opening of Warzone's Stadium and the introduction of a train which travels around the Verdansk map.
Season 5 will also introduce new operatives from Shadow Company, an elite private military company with "a framework and agenda all of their own."
The content will go live on Wednesday, August 5 at 11pm PT / 7am BST and the 36GB patch is already being rolled out as a pre-load for PS4 players.