Call of Duty Mobile Season 7 video shows expanded battle royale map
Radioactive Agent introduces new areas, enemies and vehicles this week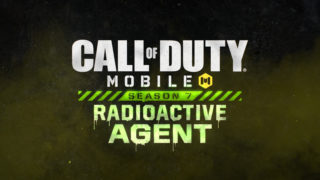 Call of Duty Mobile Season 7, Radioactive Agent, will expand the battle royale game's map when it launches this week.
New areas shown off in the trailer below include Black Market, Downtown, Frigid Wetland, Harbor, Heat, Sanitarium and Ski Town.
"Not only does this mean new areas to explore, loot, and fight over in the next update, but there are also interactive areas to utilize, new enemies to find, and new vehicles to master," says publisher Activision.
Call of Duty: Mobile Season 6, Once Upon a Time in Rust, was a western themed update which included two new multiplayer maps and three fresh modes.
The first new map was Rust, which originally appeared in Call of Duty: Modern Warfare 2 and was also added to 2019's Modern Warfare this February, while the second new map, Saloon, arrived in mid-May alongside a new 1v1 Duel mode.
Call of Duty Modern Warfare and Warzone Season 4 will also start this week on June 3.
Warzone began teasing a Cold War theme in May when players were finally able to unlock bunker doors which had been present in the game map since launch.
Players later discovered how to use in-game phone messages to unlock a secret 11th bunker, which features scenery evocative of the Black Ops series including a war room, a number countdown, and a nuclear warhead.
It's understood that the next Call of Duty title will be called Black Ops Cold War and eventually be unveiled via a Warzone meta-game. The reveal will likely coincide with an aesthetic reboot of the free-to-play game's map.