Call of Duty Mobile Season 7 launches with expanded battle royale map
Content roadmap also reveals upcoming Gulag map, Gunfight mode and more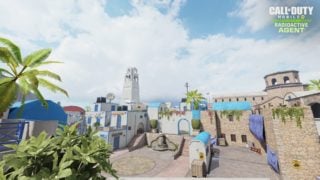 Activision has launched Call of Duty Mobile Season 7, Radioactive Agent.
Key features of the new season at launch include an expanded battle royale map, the addition of a tank to battle royale, plus new multiplayer map Tunisia, which is a Mediterranean village featuring tight alleys and open courtyards.
The size of the battle royale map has been increased by about a third with the addition of the following new areas previously shown off in a trailer: Black Market, Harbor, Downtown, Sanitarium, Ski Town, Heat, and Frigid Wetlands.
Releasing throughout the season will be new multiplayer mode Attack of the Undead (mid-June), which sees Undead players hunting Survivors who join the Undead if they are killed, and new multiplayer map Gulag (late June), which is tied to the upcoming Gunfight mode currently featured in Call of Duty: Modern Warfare.
A new Battle Pass is also available now featuring new soldiers Ghost – Hazmat and Kreuger – Alchemist. Further details on Season 7, including a new training mode, seasonal challenges and Ranked Series, plus World Championship Stage 2 information and various fixes and optimisations, can be found here.
Like Modern Warfare and Warzone Season 4, Call of Duty Mobile Season 7 was originally due to start in the first week of June but was delayed in support of anti-racism protests taking place across the globe.
Released earlier this week, Modern Warfare and Warzone Season 4 includes a large amount of new content including a Season Pass, in-match events for the Battle Royale game and a 50 versus 50 team mode.
Warzone Season 4 will also include Juggernaut Royale and Realism modes, while Modern Warfare multiplayer will add the Cheshire Park map and several extra modes mid-season.