Call of Duty Mobile Season 3 detailed ahead of this week's launch
CoD Mobile World Championship 2021 also announced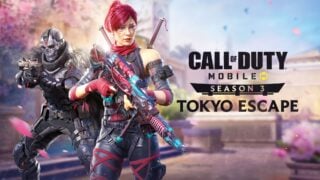 Activision has revealed Call of Duty: Mobile Season 3: Tokyo Escape.
Launching on April 16 at 5pm PT / 8pm ET (April 17 at 1am BST), Season 3 includes two new multiplayer maps, fresh weapons, the Overclock perk, additional Operators and weapon blueprints, and 50 tiers of earnable rewards in its Battle Pass.
The new multiplayer maps are Oasis and Coastal. The former is a medium sized map set in a luxurious desert hotel, which first appeared in Call of Duty: Modern Warfare 3.
Coastal is a new map set in a sea town. "Fight outdoors across broad, paved lanes, or weave through the map's indoor locations on your way to the next target," says Activision.
Call of Duty Mobile Season 3 will also feature new multiplayer playlists. Updated Night Modes see players equipping battery-charged night vision goggles, while Swords & Stones only equips players with melee weapons and grenades, which are used to fight for the Shadow Blade Operator Skill when it's airdropped.
Activision has also announced the Call of Duty: Mobile World Championship 2021, which begins on June 3 and includes a $2 million-plus season-long prize pool.
Call of Duty Mobile released for Android and iOS devices in October 2019 and surpassed 300 million downloads in about a year, according to Activision.
The free-to-play shooter reached Season 13 in December 2020 before Activision chose to start with a clean slate and refresh its content seasons with the introduction of a brand-new Season 1 in January 2021.
In February 2020, Activision Blizzard CEO Bobby Kotick said mobile was the publisher's "largest" platform and that the company was working on mobile games based on all its top franchises.
A job advert for an executive producer of features on "a new AAA mobile FPS in the Call of Duty franchise" was then spotted in September 2020 before being taken offline. It included multiple references to Warzone Mobile, suggesting Activision was planning to bring the battle royale hit to new platforms.
Activision has also begun teasing next week's launch of Black Ops Cold War and Warzone Season 3, which will refresh the battle royale game's Verdansk map.
As first reported by VGC in February, at the end of Black Ops Cold War and Warzone Season 2, the game will finally transition to its new map.