Call of Duty Mobile Season 11 adds Black Ops 4's Alcatraz battle royale map
Plus fresh multiplayer maps and modes, and a new social space called The Club
Activision has launched Call of Duty Mobile Season 11, Anniversary, a little over a year after the game launched on October 1, 2019.
Season 11 introduces a second battle royale map for a limited time in the form of Alcatraz, which first featured in Call of Duty: Black Ops 4's Blackout mode.
Set in and around the San Francisco Bay prison, it's a relatively small map which places a greater focus on close-quarters combat and verticality than the game's regular battle royale map, Isolated.
To celebrate the game's anniversary, Call of Duty Mobile is also introducing a new social space called The Club. Players will be able to choose from one of four custom made soundtracks as they explore the area.
"Hit up the bar to watch some television while chugging down Juggernog, pick up mission tasks from NPC characters like Adler from the upcoming Call of Duty: Black Ops Cold War, and take a spin on the Anniversary Machine for the chance to earn special rewards," Activision says.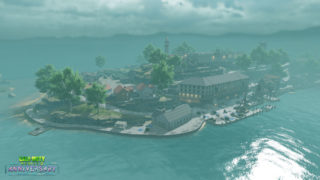 Modern Warfare's original Gunfight map is also now available in Call of Duty Mobile, playable in 2v2 Gunfight and 1v1 Duel.
And the Halloween Standoff multiplayer map from last year's Halloween event returns for a limited time.
New multiplayer modes in Season 11 will be Cranked, in which players must get a kill every 30 seconds to avoid exploding, and 10v10 Kill Confirmed, in which players need to retrieve dog tags from fallen enemies in order to score a point (in a Halloween twist, dog tags will be replaced with pumpkins).
In February 2020, Activision Blizzard CEO Bobby Kotick said mobile was the publisher's "largest" platform and that the company was working on mobile games based on all its top franchises.
Call of Duty Mobile had surpassed 250 million downloads since its release.