Call of Duty Mobile coming West with battle royale teased
Free-to-play iOS and Android game to feature content from across franchise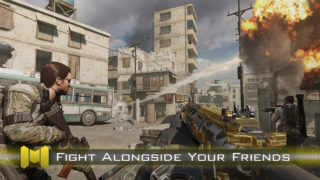 Activision has announced Call of Duty: Mobile for Android and iOS, and teased a version of Call of Duty: Black Ops 4's Blackout battle royale mode.
Developed in collaboration with Tencent's Timi studio, the game appears to be a renamed version of Call of Duty: Legends of War, an Android game which soft-launched in select regions last year.
Call of Duty: Mobile will be free-to-play and bring together maps, modes, weapons and characters from across the franchise, Activision said, including Black Ops and Modern Warfare.
Modes such as Team Deathmatch, Search and Destroy and Free-For-All are promised, plus classic maps from the series such as Nuketown, Crash and Hijacked.
Activision has also promised more modes in the future, including what appears to be a version of battle royale mode Blackout teased in the game's trailer.
Beginning today, you can sign up and pre-register for Call of Duty: Mobile at www.callofduty.com/mobile.
"We are delivering the definitive, first person action experience in a new mobile title with incredible graphics and visceral Call of Duty gameplay," said Chris Plummer, VP, Mobile at Activision. "Together with the amazing team at Tencent, we're bringing together a collection of the most beloved maps, competitive modes, familiar characters and signature weapons from across this storied franchise into one epic experience for the first time on mobile."