Call of Duty Mobile adds free-for-all multiplayer mode
Classic deathmatch mode available for a limited time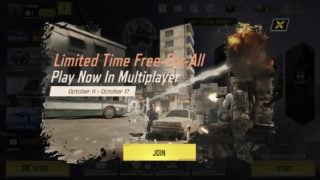 Call of Duty: Mobile now includes free-for-all mode for a limited time.
The multiplayer mode, which supports eight players, is available from October 11-17.
It's accessible in the game's featured playlists, although it's only unlocked if you've ranked up to level 8.
Developed by Tencent's Timi studio, Call of Duty: Mobile brings together maps, modes, weapons and characters from across the franchise, including the Black Ops and Modern Warfare series.
It includes several multiplayer modes including team deathmatch, while its battle royale mode supports up to 100 players.
Activision says additional modes and content, time-limited events and playlists will be added regularly.
Prior to the title's official launch, Call of Duty Mobile controller support was included in the game's settings, but was later removed via an update. Activision's VP of mobile, Chris Plummer, has said Call of Duty Mobile controller support could return in the future in the form of separate game lobbies.
Call of Duty: Mobile is playable on PC via Android emulator GameLoop, which offers mouse and keyboard controls plus "exclusive key mapping".
Call of Duty Mobile downloads topped 100 million in record time, reportedly hitting the milestone within a week of the game's release on October 1.